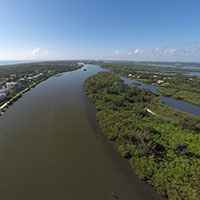 Central lagoon in fair condition, but better than north or south
STORY BY SUE COCKING

The first-ever health report card issued for the entire 156-mile-long Indian River Lagoon shows that the stretch that runs through Indian River County is in fair-to-poor condition – better than the northern and southern portions, but with quite a way to go to achieve good health.
"Things here aren't as bad as everywhere else," Dr. Leesa Souto, executive director of the Marine Resources Council, told a public meeting at the Environmental Learning Center in Vero Beach last week. "You have a 'D.' You can still pass.  Don't let it get any worse."
The report card, which was issued by the Marine Resources Council, took three years to produce and involved input from more than 60 lagoon scientists.
It examines water quality and habitat data assembled from state and federal regulatory agencies' monitoring stations from 1996 through 2016 in 10 regions from New Smyrna Beach south to Jupiter.
Water quality scores for each region were calculated using four indicators:  the amounts of nitrogen and phosphorus in the water; the amount of algae present; and the clarity of the water. Habitat scores of zero to 100 were based on seagrass cover.
The central-south section of the Lagoon where Vero is located, which extends from Sebastian Inlet to the Indian River-St. Lucie county line, scored 78 for water quality (fair) in 2016 and 56 (very poor) for habitat.  The section from the Melbourne Causeway to the Indian River County line registered 37 (extremely poor) for habitat and 62 (poor) for water quality.
"We didn't need a report to know the lagoon was abysmal in 2016," Souto said.  "If we had done this 20 years ago, we might have cut it off before things got so bad."
Overall, Souto said, the lagoon is healthier in areas near inlets – where there is tidal flushing – than in the Banana River and Mosquito Lagoon to the north, where waters take a very long time to turn over. Even some portions of the south lagoon in Martin County, now befouled by toxic blue-green algae, showed fair water quality in 2016, likely owing to the St. Lucie Inlet. But Souto said the report suffers from a data gap in the southernmost lagoon because state monitoring stations were taken off line from 2013-16.
Souto said the Marine Council's goal is to produce the health report card annually to see whether the lagoon is getting better or worse, and to fill in monitoring gaps with volunteer help from other conservation groups. She said future reports should incorporate additional health indicators such as toxins, land use changes, fish counts, and water quality data from tributaries – not just the lagoon itself.
Souto exhorted the gathering at the ELC to hold elected officials accountable for the lagoon's health.
"Remind your city council people not to make bad decisions and to be precautionary," she said.  "This [Indian River County] area of the lagoon is the last little vestibule for seagrass to survive in."
The lagoon health update is being presented at a series of public meetings throughout the region, including Harbor Branch, where Souto shared her findings last Wednesday.  The study was funded by the National Estuary Program and private donations.