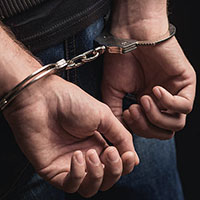 Man arrested after returning to island home to reclaim illegal drugs
STORY BY FEDERICO MARTINEZ

A jilted lover's luck went from bad to worse when he returned to his ex-girlfriend's house on the island to demand his belongings. Indian River County deputies called to the scene allowed the man to gather up his possessions – which happened to include a plastic bag containing crystal methamphetamine – and then promptly arrested him.
Peter Roy Justin Welsh, 29, of Palm Beach County, was charged with one count of possession of controlled substance, trespassing and possession of less than 20 grams of cannabis. No bond was granted.
Sheriff's deputies responded to a complaint at 5:56 p.m. on Sept. 5 that Welsh was trying to break into a residence at 2240 Seaside Street in a subdivision just south of the Moorings. The complainant, Grace Rummel, told deputies she had locked herself in a room because she was afraid Welsh, her ex-boyfriend, would become violent.  
When they arrived, deputies found Welsh exiting a patio screen door, according to the sheriff's report. When deputies asked Welsh to fully step out of the patio, he returned inside where he set an object down on a small round glass before complying with commands to come outside.
"As we relocated to the front of the residence, I could smell an odor of an alcohol beverage emitting from Welsh's breath," Deputy Eric Getchell wrote in his report. "Welsh would not remain in one spot, kept reaching for items in his pockets, repeated himself multiple times, and yelled for Rummel as I attempted to interview him."
Welsh told Dep. Getchell that he had come to the house to reclaim his belongings, which included a tank top, cigarette case, cellphone, rolling paper and a clear plastic bag containing a pinkish crystal substance. The items were lying on the small glass table on the patio.
When deputies escorted Welsh to the table, he allegedly grabbed the bag containing the pink crystal substance and tried to put it into the cigarette case. Deputies immediately placed him in hand-cuffs.
When deputies frisked Welsh they found marijuana in his pocket and another bag containing a pink crystal substance.  A field test indicated the crystal substance in both bags was methamphetamine – a combined total of 1.2 grams, according to the sheriff's office.
After Welsh was placed in a patrol car he said he was having difficulty breathing and wanted medical treatment. He told deputies that he had recently been smoking "Molly," but wasn't certain what was in it. Molly is a street name for the chemical MDMA (3,4-methylenedioxy-methamphetamine), also called "Ecstasy."
"Due to Welsh's level of intoxication and recently consuming 'Molly,' he began to hyperventilate in the backseat of my patrol vehicle causing him to complain of shortness of breath," Getchell reported. "EMS responded to the scene and transported Welsh due to him going in and out of consciousness."
Welsh was treated at the Indian River Medical Center and then released back to Getchell's custody. He was then transported to the county jail, where he remains.
Rummel told investigators that she and Welsh, who is homeless, were in a brief relationship, and only stayed at the home together for a couple of days. The home belongs to Rummel's mother.
"I just want him to leave and never come back," Rummel told deputies.