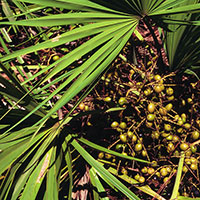 Police nab man for illegally picking saw palmetto berries
STORY BY FEDERICO MARTINEZ

A Vero Beach man who was picking saw palmetto berries without a state permit now finds himself in a jam after trying to run from police while carrying a 150-pound sack of purloined fruit over his shoulder.
Jorel Lesage, 47, was gathering berries in a wooded area west of 5th Avenue SW on Sept. 3 when Indian River County sheriff's deputies spotted him.
When he saw the deputies, Lesage made a run for it but did not get far. After a very brief chase the 6-foot-1, 240-pound forager collapsed under a nearby tree and confessed that he did not have a permit to pick the berries.
"I signed up for a permit but it hasn't got back to me from Tallahassee yet," a winded Lesage told deputies.
Lesage was arrested and charged with illegally harvesting the berries.
The Florida Endangered Plant Advisory Council added saw palmetto to the Department of Agriculture's commercially exploited plant list in July and it's now a first-degree misdemeanor to transport or sell the tree's fruit.
The law is designed to combat pickers who trespass on private property to pick the berries, which many people use as natural remedy for a variety of ailments, including enlarged prostrate. But it also applies to homeowners who have palmetto berries in their own yards and want to pick and sell them, according to the Department of Agriculture.
Applying for a permit is free, but can take several weeks to be approved.
According to the Department of Agriculture, the berries fetch about $3 a pound wholesale.  
Most often the berries are dried, ground up and then sold to pharmaceutical and herbal supplement manufacturers.
Lesage did not say what he intended to do with the berries he picked.  If convicted, he could face up to one year in jail. He's scheduled for arraignment September 25.