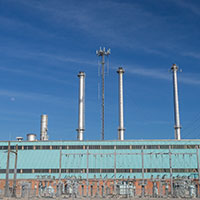 Pro-sale forces go on offensive in electric battle
STORY BY LISA ZAHNER

One down, three to go. Now that the Florida Industrial Power Users Group has voluntarily dismissed its challenge to the Florida Public Service Commission's approval of the $185 million sale of Vero electric to Florida Power & Light, pro-sale legal teams are poised to gang up on the three local obstructors.
FPL's attorneys have already filed a motion to dismiss separate claims filed by Michael Moran, former Vero councilman Brian Heady, and attorney and former Vero councilwoman Lynne Larkin, who asserts that she's challenging the sale on behalf of 900 unnamed members of the Civic Association of Indian River County.
Vero Mayor Harry Howle on Saturday predicted Vero and FPL will ultimately prevail at the PSC, but said the protests have forced the city to push back the sale closing until early 2019, according to the PSC's published schedule of hearings on Oct. 9 and 10 to consider claims and motions and a final decision by Dec. 31.
Howle said he thinks those objecting to the sale "will fall flat on their face, having not met the first burden of proof: How does this action harm you?"
FPL characterizes Heady's claims as "legally deficient," claiming his objection "fails in all material respects to allege the requirements necessary to obtain standing to challenge the Commission's proposed agency action."
In FPL's opinion, Heady did not demonstrate how he would be injured by the sale, noting that Heady even states he's not opposed to the sale itself, but instead to how it has been conducted. FPL Senior Counsel Kenneth Rubin also argued in a 10-page motion that Heady has not challenged relevant facts and that his filing goes way beyond the scope of the matter at hand.
"The Heady Motion is nothing more than an expression of Mr. Heady's dissatisfaction with the political process that led to the execution of the Asset Purchase and Sale Agreement ("PSA") for the sale of the COVB electric utility to FPL," Rubin wrote in the motion filed Aug. 10.
With regard to Moran, who describes himself as a "deaf American" and who asked for a PSC hearing with sign-language interpretation to be held in Vero Beach, FPL basically lumps him with Heady as a malcontent who disapproves of how the City of Vero Beach and individual public officials executed the electric sale.
Moran even claims in his July 23 petition that several media outlets – corporate and independently owned newspapers and television stations, plus bloggers and newsletter publishers – collectively, deliberately withheld information from the public about potential future increases in FPL rates.
"Nowhere in the Moran Petition does Mr. Moran identify how he has been or would be impacted by Order 2018-0336. The Moran Petition also fails to specifically identify the substantial interests that have been affected by Order 2018-0336 or the issues that are being disputed," Rubin states for FPL.
Moran's challenge is described as no more than a litany of personal beefs with agencies and individuals.
"The Moran Petition is replete with the author's personal misgivings about circumstances and events that played out at the local level related to the utility sale, including those related to: voting representation; local referendum administration; supposed local media blackouts; Sunshine laws as applied to local officials; alleged neglect of certain FPL customers; and impolite attitudes and behavior of local officials, attorneys, and an unnamed FPL employee," the motion to dismiss states.
The Indian River Board of County Commissioners has petitioned to join the matter as an intervening party, and the Indian River Shores Town Council has voted to do the same, both supporting the sale as approved by PSC.
If both are approved as intervenors by the PSC, the county and the Shores would have the power to issue interrogatories to all three protestors. This is likely of little consequence to Heady and Moran, but it puts Larkin in the hot seat.
Larkin's Civic Association has come under fire for not being anything close to what Larkin purports it to be – an active organization of 900 engaged members who have a stake in the Vero electric sale.
Larkin has refused to release a list of members or to produce a meeting agenda where the electric sale was discussed, or meeting minutes showing where a vote of the Board of Directors or corporation officers was taken to file the objection and engage Larkin to represent the entity in the matter.
Former Vero councilman and utility activist Charlie Wilson has filed a complaint with the Florida Bar saying that Larkin improperly filed the PSC challenge because, Wilson argues, Larkin has not shown that she was officially engaged to do so.
In simple terms, Wilson alleges that the Civic Association of Indian River County is an empty shell of an organization that Larkin dusts off whenever she needs a legitimate-sounding platform from which to launch a political attack or legal challenge of an issue or policy.
Wilson also argues that Larkin has knowingly made false statements in her filings on behalf of the Civic Association. The City of Vero Beach has its attorneys researching Wilson's claims to see how the city might join the Florida Bar complaint, but so far that has not happened.
In FPL's Aug. 6 motion to dismiss Larkin's challenge, FPL's Rubin said the Civic Association's filing is "both legally deficient and factually inaccurate," as well as not meeting the requirements to establish standing as it alleges only "speculative harm."
"The Civic Association, dissatisfied with the political process that led to the City of Vero Beach ("COVB") City Council's approval of the agreement to sell the COVB electric utility to FPL, has filed its Protest Petition in a thinly veiled – and legally deficient – attempt to use the administrative process to challenge the sale, motivated by political objectives that are not jurisdictional to this Commission and despite the fact that the typical COVB residential customer using 1000 kWh per month stands to save approximately $26 a month by transitioning to FPL's rates," Rubin states in the FPL motion.
Over the past month, interrogatories and responses have been flying back and forth among the parties, but unfortunately for the public, those documents are either not disclosed, or they are heavily redacted. Testimony of intervenors is due to the PSC by Friday, Sept. 7, with staff testimony and rebuttals to follow throughout September and a prehearing date on Oct. 3. Then come two days of hearings on Oct. 9 and 10, moved up from Oct. 10 and 11 so Larkin could attend a family reunion.
To show that a substantial number of her 900 member-clients Larkin says are represented by the Civic Association would be substantially impacted by the PSC's approval of the sale, presumably Larkin would need to disclose exactly who those people are, where they live and whether they are Vero Beach electric ratepayers, or FPL ratepayers.
Former County Administrator Joe Baird, who managed the county from 2004 until he retired in 2016, and who held top positions in the county budget office and utilities department for three decades, said two weeks ago that he remembered the Civic Association being very active in the 1980s, mostly on land-use issues, but that he could not remember the group approaching the county about an issue or being involved with local politics for decades.
"Aren't they all dead?" Baird asked. "I thought they were probably all gone by now."