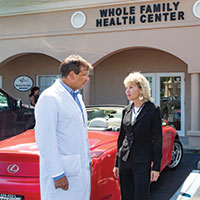 Whole Family Health's role continues to grow
STORY BY MICHELLE GENZ
Photo: Dr. Gerald Pierone and Marie Andress in front of Whole Family Health Center.

Whole Family Health Center has hired an impressive new CEO at a time when the clinic is gaining prominence and importance as a healthcare resource in Indian River County, offering free to low-cost adult and pediatric primary care as well as mental health services.
Marie Andress, who has taken the reins, is the former executive vice president and CFO of Family Health Centers of Southwest Florida, a low-cost system with 32 locations and 78,000 patients, where she worked for almost 12 years.
With undergraduate and graduate degrees in business management and finance from Widener University, she's also worked as treasurer of a regional hospital system in Ohio, but says it was the experience of working with a large homeless shelter in Naples that opened her eyes to the healthcare needs of the poor.
These days, she makes it a point to step out of the administrative offices and into the clinics themselves, where she shadows practitioners or front desk personnel to get a sense of who is receiving the care she oversees administratively.
"It's the only way you can get a feel for the patients," she says. "Administrators have no idea of what our practitioners do, when you have so many patients coming in with so many challenges. It really is a struggle to be able to provide all the services."
Andress is particularly proud of Whole Family's HIV/AIDS component, now about a fifth of its patient total. Thanks largely to Vero Beach's Dr. Gerald Pierone, who founded the nonprofit clinic that would eventually become Whole Family, the Center receives HIV/AIDS referrals from all over the region, she says. In addition Pierone heads a research arm within the clinic that locates patients to participate in drug trials.
When Pierone first came to the Treasure Coast in the 1980s, he began working with an existing clinic in Fort Pierce. At the time, a diagnosis of AIDS was a death sentence; only in 1996 did the first combination drug therapy give hope to patients. By then, Pierone had founded his own AIDS clinic in Fort Pierce. It too is now part of Whole Family, which opened in Vero in 2011. Prior to that, Pierone saw AIDS patients at the Vero medical practice he still shares with Dr. Nancy Cho, a prominent cardiologist.
Today, Whole Family's focus has greatly broadened and its presence expanded. Between its Vero clinic, set amidst doctors' offices across the street from Indian River Medical Center, and the Fort Pierce clinic, Whole Family providers log 20,000 appointments a year for 4,300 patients. The in-house pharmacies fill 15,000 prescriptions annually and are a critical source of income for the clinic since the drugs are provided to the clinic through the federal government.
In addition to HIV, primary care and pediatrics, the clinic offers mental healthcare with one full-time psychiatrist, a part-time psychiatrist and two mental health counselors. It also offers orthopedic consults and will soon be adding a dental component.
While Medicare and Medicaid patients make up most of Whole Health's clients, 29 percent of the clinic's patients have private insurance.
Last fall, Whole Family earned a designation that will help it move forward and grow. After an effort that began in 2014, it finally became a Federally Qualified Health Center Lookalike, a status that assures can continue with its subsidized pharmacy program, but a step beneath its competitor, Treasure Coast Community Health, whose "access point" status allows it to get government grants.
Whole Family board chairman Stephan Trooboff spoke in June to the Hospital District board, invited by Chairwoman Marybeth Cunningham in an effort to make the clinic more broadly known as a provider of low-cost care. Trooboff said Whole Health's business model will eventually require more locations.
"I've been talking to CEOs of community clinics across the country and the real secret to their success is access. They have 15 offices, 18 offices, they operate out of public schools, they have mobile vans. You name it: they are taking patient care to the patient, rather than the patient coming to them."
Trooboff has spoken with leaders of United Against Poverty, which he called a "perfect place" for a satellite clinic. He also has an eye on the Senior Resource Association. "You've got our patient population," he told Hospital District Trustee Karen Deigl, who is Senior Resource's executive director. "If you think about it, it's a lot easier to take care to the patient with the kind of patients we're getting."
Trooboff spent 15 years on the board of directors of an expanding hospital system in New Hampshire. He joined Whole Family's board when he retired to Vero and has been board chair for close to a year.
"We gross $12 million a year," he said. "Our goal is to make 2 percent on the $12 million to pay our bills and move into the next year."
Whole Family does not receive taxpayer dollars through the county's Hospital District, unlike Treasure Coast Community Health and the county Health Department, the principal primary care providers for the poor in the county. "They've never asked," said District chairwoman Marybeth Cunningham. "If they did, we probably would."
Today, as the Hospital District tries to reach deeper into pockets of unseen poverty in the county, as well as ease the non-emergency burden on the hospital's emergency room, low-cost primary care has become even more critically important. Whole Family Health Center may find itself increasingly arising in indigent care conversations.
Trooboff said data shows that in the three Indian River County zip codes where most of Whole Health's patients live, there are 17,626 people with unmet medical needs who are subsisting on income below 138 percent of federal poverty guidelines.
For now, the only way for those people to find out about Whole Family is by word of mouth. For all the growth the clinic is enjoying, it does no advertising, passes out no brochures, and buys no ads in newspapers or on radio. "That's probably the most interesting thing to me – that we've done all that without marketing," Trooboff told the District board.
Like all low-cost clinics, Whole Family's patient population has complex medical challenges. Clinic physician Dr. Oni went to medical school in Nigeria, practiced in the U.K. and then came to the U.S. in 2005 to do a residency in internal medicine in New York. She described to the Hospital District board heart-rending scenarios among her low-income patients.
"They are in and out of care; they lose insurance all the time or don't have insurance. They'll visit the ER when there's a problem, and sometimes visit three or four different ones. It's a very challenging population to look after."
Describing a hypothetical example of a typical patient, Oni talks about a 60-year-old woman who hasn't been treated in a year and a half, despite hypertension and diabetes that are close to out of control. "She may not remember the names of her medication, and she may not even be able to read the labels on her drugs."
A new complication brought the patient in most recently – a sore on her foot related to diabetes. "You get her situated and started back on medications, and you order lab results. But now you can't reach her because her phone's been disconnected," Oni said. "You can't communicate things within a prompt manner."
That precipitates another cycle of skipped appointments. And more complications.
Adolescent patients are "a mirror image of the adults," Oni said. "They too have bad Medicaid plans. They're in and out of care, they come from dysfunctional households, and some can be a real challenge to look after.
 "We really do a lot of hand holding," said Oni, "and a lot of educating."