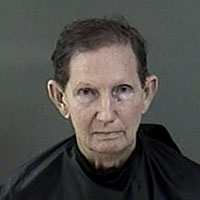 Irate ex-mayor charged in gun incident at home
STORY BY LISA ZAHNER

Police say former Vero Beach mayor Craig Fletcher crossed a line in his words and behavior when he answered the front door of his home brandishing a loaded gun amid a dispute with his neighbor's landscapers, but attorney Andrew Metcalf said the allegations paint a picture vastly different from the Fletcher many long-time Vero residents know.
Fletcher, 77, a retired aerospace engineer and Vero native, was arrested on March 29 by the Vero Beach Police Department, charged with felony aggravated assault and, as a condition of being released from the Indian River County Jail on $2,500 bond on March 30, he was ordered to have no contact with the alleged victim, Soterios Bouchlas.
"We will be entering a plea of not guilty and waiving arraignment, and I will be giving Mr. Fletcher the best possible defense," Metcalf said. "As a lifelong resident of Vero Beach, I am well aware of his service to our community, and these allegations are certainly not in character with his life of service, and that should not be forgotten."
How did the situation escalate, so that Bouchlas ended up on Fletcher's doorstep with a gun allegedly pointed at him?
According to the arrest affidavit, two workers from the Vero-based landscaping company Bouchlas manages, Christo's Landscape Solutions, were trimming trees at the house of Craig and Arlene Fletcher's next-door neighbor in Vero's McAnsh Park neighborhood. According to the court documents, Fletcher had come outside and yelled at the workers, who he accused of damaging or removing vegetation that was on his property.
The workers called Bouchlas and his business partner, Gregory Christo, to the job site to handle the situation. Bouchlas apparently parked, approached the Fletcher home wearing a shirt with the company logo, opened the screen door and knocked on the front door four times.
Police say Fletcher came to the door with a revolver.
Bouchlas claims Fletcher shouted expletives at him and threatened to shoot him while he pointed "a black old style cowboy revolver with a small barrel opening" at the victim's chest for three seconds while he was standing about 5 feet away.
The combination of Fletcher's words and actions sent the man sprinting back down the driveway in fear for his life and police were called at 12:28 p.m.
According to the police report, Christos did not see the incident occur, but only saw Bouchlas running back to the truck, and as Christo was backing his truck away, he saw Fletcher walk out into the driveway.
Both Craig and Arlene Fletcher acknowledged a verbal altercation and that Craig was holding and pointing the revolver, but when interviewed by police on the scene, both Craig and Arlene Fletcher denied that Craig threatened to harm Bouchlas.
"Fletcher stated that he didn't do anything wrong. Fletcher also stated that there is nothing wrong with having a gun in your own home," the report states. "Fletcher said that he never said he was going to kill Bouchlas, or point the gun at his chest. Fletcher said the workers should have stayed off his property."
Fletcher voluntarily allowed the first officer on the scene, Vero Beach Police Lieutenant Matt Harrelson – who Fletcher knew personally from Harrelson working the security detail at many Vero Beach City Council meetings – into his home and showed Harrelson the handgun, a Colt Python Revolver which was loaded and in plain view on the bed in the bedroom.
Both Craig and Arlene Fletcher made statements to Harrelson explaining how the incident unfolded, according to a supplemental report on file with the Vero Police Department.
In that report, Harrelson wrote, "He (Fletcher) was visibly shaken and was extremely agitated. His skin was flushed and he appeared to be very angry by his tone and volume. I asked him what was going on and he began to yell towards me about people 'cutting down his orchids' and that 'they had no right to be on his property' and that 'they were not following the city ordinance that he helped write."
But apparently the issue over the property line and the orchids didn't just pop up that day.
Christo told Harrelson this was not the first time Fletcher complained about his workers – that the problem began in 2018 after they'd trimmed trees at the same home next to Fletcher's house for the parents of their client, Ted Twitchell.
"He (Christo) explained that they had done this once before last year and that he learned from Ted Twitchell that the Fletcher's were very upset at the work they had done because they felt like his company had infringed on their property," Harrelson wrote in his report.
Arlene Fletcher, also described as being upset, told police, "Craig did nothing wrong!" She told police there had been "Mexicans in their yard and (they) had stolen their orchids!" according to the supplemental report. She told police that she and her husband were startled by the banging on the door and that they could not see any vehicles from inside the home, so they did not know who was banging on the door.
Police asked Arlene Fletcher to show them the orchids in question and examined the area where the landscapers were working. Corporal Darrell Rivers took photos of the trees and the orchids, but the report states there was not any clear evidence that the orchids had been destroyed or trampled on, as alleged by the Fletchers.
Four additional Vero Police officers showed up within minutes and secured the handgun as evidence. After becoming argumentative, saying he'd done nothing wrong, and initially refusing to go to with police for questioning, according to records, Craig Fletcher went with officers voluntarily to the station.
Once he was read his Miranda rights and knew he was under arrest around 2:23 p.m., Fletcher made no further comments to police, records say. He was booked into the jail at 5:06 p.m. on felony aggravated assault charges.
When Fletcher's daughter showed up at his house, Harrelson reported he told her that her father was at the police station. "I advised her that based on what I observed, that I was concerned with her Father's state of mind and why he would react to a knock on the door with threatening a subject he didn't even know by pointing a firearm at him," the supplemental report states.