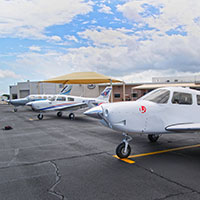 Piper sales soar; company expects to add more workers
STORY BY RAY MCNULTY

Piper Aircraft's payroll now exceeds 1,000 employees as a strengthening economy has sparked an increased demand for its single- and twin-engine airplanes, and the Vero Beach-based company predicts it will add as many as 100 workers by early next year.
If that happens, Piper's workforce will have nearly doubled since 2015, when sagging sales and uncertainty in the global market prompted layoffs and early retirements that reduced the company's payroll to fewer than 600 employees.
"We're still hiring," Piper spokeswoman Jackie Carlon said last week, when the company – the largest private employer in Indian River County – announced the biggest civilian fleet order in its history and, at the same time, the introduction of two lower-cost training aircraft to its product line.
The announcement of a 10-year contract to build 240 airplanes for L3 Commercial Aviation came only 14 months after Piper received a record-breaking order to build 152 training aircraft for China's Fanmei Aviation Technologies.
The L3 order, however, will not impact Piper's current 1,009-employee workforce because, Carlon said, the company "knew before the year started that the deal was coming" and "had already adjusted staffing levels to meet our production schedule."
Carlon said Piper delivered 229 aircraft in 2018 – nearly a 50 percent increase over the previous year – and is on a pace to ship more than 300 in 2019. To meet its overall workload, the company expects to continue hiring though the end of the year.
Piper, which has been manufacturing airplanes in Vero Beach since 1957, began 2019 with an order backlog of nearly 700 aircraft.
Business is now so good, in fact, that the company moved the final-assembly station for its wildly popular training aircraft into a nearby hangar to create more room in the main factory.
The demand for training aircraft, Carlon said, has been fueled by a worldwide shortage of pilots.
Piper CEO and President Simon Caldecott said he was "delighted" to know that his company's products would "launch thousands of aspiring pilots' careers around the world."
Moving forward, Carlon said, Piper's biggest challenge could be finding the highly skilled workers needed to fill future orders for the trainers and its other aircraft.
To address the shortage of workers trained in the trades needed in the manufacturing sector, including the aviation industry, Piper announced in October it was partnering with Indian River State College to launch an apprenticeship program with 10 students this summer and another 10 next year.
The program will provide 4,000 hours of on-the-job training, plus classroom instruction, both of which will be designed to prepare the apprentices for work as a "journeyman" in aircraft assembly, according to Piper's announcement.
Not only will Piper pay the students' college tuition, Carlon said, but the company also will pay the apprentices $12 per hour, with performance-based increases that could reach $18 per hour by the end of the two-year program.
They'll also receive the same benefits package offered to employees.