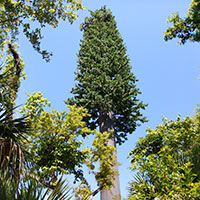 Verizon gives shores another new date
STORY BY LISA ZAHNER
Photo: The Shores new cell tower.

Verizon Wireless customers waiting to get decent reception in their Indian River Shores homes are now being told a better signal will come in  June.
Verizon reached out to Vero Beach 32963 in response to a recent article stating that Verizon service from the Shores new cell tower was expected to be up and running by late April, saying that the best estimate they now have is not April but June.
"Though construction should be complete by the end of April, Verizon service is not expected to go live until June. We look forward to enhancing coverage and capacity in this area in June," said Verizon Public Relations spokesperson Kate Jay.
Datapath Tower President Curt Jones had provided the April target date. "I was going off of what the general contractor was doing on the site and extrapolated when the site should be on the air."
St. Petersburg-based Datapath Tower permitted and constructed the Monopine tower – which bears some resemblance to a pine tree – in partnership with the town. But the two companies who lease space on the tower – AT&T and Verizon – install, test and maintain their own transmission equipment.
A Verizon start date has been repeatedly delayed, most recently due to damage to major equipment during shipment. Some of the damaged components were readily available, but others had to be remade from scratch, causing Shores residents to wait another few months for improved service.
Indian River Shores Public Safety officers and vehicles use Verizon service for on-board computers and general communications, but years ago the Public Safety Department invested in signal boosters installed in each vehicle to prevent dropping calls and losing time-sensitive dispatch information.
Many Shores residents have also purchased signal-enhancing equipment – which works better for some than for others –  to be able to make cellular calls and use cellular data inside their homes.