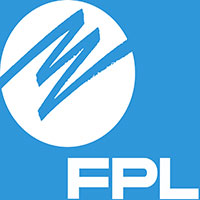 FPL hardening its grid to reduce tropical storm outages
STORY BY NICOLE RODRIGUEZ

Even before Tropical Storm Dorian began making its way through the Caribbean, Florida Power & Light Co. announced it was working to improve its system locally in hopes of averting mass power outages in the event Vero is hit by a hurricane.
Representatives from the state's largest utility – which in December bought the city of Vero Beach's electric system for $183.3 million – outlined plans at a recent City Council meeting to harden its grid, install smart meters and switches that assist in avoiding outages.
It also announced it was undertaking an aggressive tree trimming strategy near power lines, since wind-blown branches and debris are a major cause of power outages during a storm.
FPL, which serves more than 5 million customer accounts in 35 counties across the state, plans to harden six main power lines in Vero Beach next year and harden all main power lines in the city by the end of 2024.
Hardening consists of installing wooden or concrete power poles that can withstand major hurricane-force winds. The process includes shortening the span between poles by installing additional poles and possibly placing some segments of lines underground.
Hardened power lines perform 40 percent better in day-to-day operations than power lines that are not hardened, translating into fewer outages, according to the company.
"We're looking to beef up the poles and wires that are part of the main lines that serve all of the customers in this community," Andy Stark, FPL's area distribution manager told the council on Aug. 20.
Since Hurricane Wilma hit Florida in 2005, blacking out power to 3.2 million customers, FPL has spent nearly $3 billion strengthening its system. Upgrades included clearing vegetation from more than 150,000 miles of power lines, strengthening nearly 860 main power lines and placing more than 450 main power lines underground.
The company inspects its 1.2 million power poles every eight years and upgrades or replaces those that no longer meet the company's standards for strength. The strongest concrete poles are made to withstand 145 mph winds. FPL also installed nearly 5 million smart meters and 83,000 intelligent devices to help predict, reduce and prevent power outages, and restore power faster if outages occur.
The company claims the energy grid investments have benefited customers by enhancing service reliability by more than 30 percent in the past decade. Wilma ravaged roughly 12,400 power poles, while Hurricane Irma in 2017 damaged only 4,600 poles, according to the company.
Since purchasing the city's electric system, the company has installed nearly 31,000 smart meters in the Vero area FPL spokesman Matt Eissey said in an email.
"Along with our smart meters, our smart switches also provide enhanced reliability by reducing or preventing outages from occurring," Eissey said. "More than half of the 472 planned smart switches in Vero Beach have been installed and we expect the rest to be installed and operating by the end of September."
Smart meters allow the company to predict power outages before they happen, while the switches help prevent prolonged outages.
Vegetation trimming in Vero Beach is already underway. Trees around main lines are trimmed every three years, while trees near lines in neighborhoods are trimmed every six years.
By the end of this year, FPL will have will trimmed vegetation from 413 miles of power lines countywide and have inspected 7,863 poles, company representatives said. The company also plans to build a new distribution substation at the southwest corner of the intersection of 17th Street and Indian River Boulevard, which should be completed in May.
"The new substation, equipment and power line poles are designed to provide customers with more reliable energy," Eissey said. "A substation steps down high voltage electricity so that it can be safely distributed to residential and business customers."
FPL also plans to build a solar canopy at the Vero Beach Dog Park, located at 3449 Indian River Drive East. It will be capable of producing 7 kilowatts of clean solar energy, which is enough energy to power an average classroom. Company representatives did not provide a cost estimate or specifications for the canopy, which will require approval from the City Council.
"We hope the canopy will pique the curiosity of visitors and encourage discussion about sustainability, while providing shade from the sun," Eissey said.
Council members praised FPL for its plans and cheaper electric bills.
"We're getting about 30 percent lower electric rates," Mayor Val Zudans said.