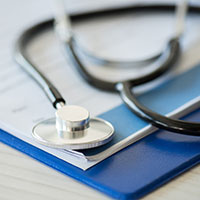 More low-income residents getting access to healthcare
STORY BY MICHELLE GENZ

More uninsured low-income residents of Indian River County are getting free or lower-cost healthcare than ever before due to a financial aid policy that turns out to be far broader than was generally realized when Cleveland Clinic took over Indian River Medical Center.
That policy dictates free care for uninsured patients earning up to 250 percent of poverty guidelines, and discounted care on a sliding fee scale for patients earning up to 400 percent of poverty guidelines.
And it now turns out the policy extends beyond the hospital to include treatment by all Cleveland Clinic-employed physicians – primary care, urgent care and specialty care – in practices outside the hospital.
"Once a patient is approved with Cleveland Clinic financial assistance, it is applied across all of our employed physician practices," the hospital's financial team told Vero Beach 32963.
That means the primary care practice on Oslo Road at 43rd Avenue; the walk-in centers at Pointe West and in Sebastian; and the offices in the Wellness Center adjacent to the hospital, will all give free or reduced-cost care to qualifying uninsured patients.
Patients must apply to receive the financial break and they cannot be covered by private or government insurance, including Medicaid and Medicare. Once their application is approved, patients can receive care in all Cleveland Clinic facilities, the policy states.
Previously, the County Hospital District provided free care for patients earning up to 150 percent of the poverty level.
The first hint of the more expansive policy came last month when Cleveland Clinic Indian River Hospital president Dr. Greg Rosencrance gave the Hospital District trustees his first formal report on the hospital and mentioned a sizeable increase in charity care overall: $4.4 million in costs, not charges, in the first six months. That is 18 percent higher than over the same period last year.
Rosencrance confirmed the policy in an interview with 32963 the following week. "It includes everything," he said, when asked to clarify what was included.
"Continuity of care is important. So it makes no sense for us to see patients on the inpatient side and not have appropriate outpatient follow-up, whether it's with us or another provider in the community. Our role is to take care of patients in this community. All patients in this community," Rosencrance said.
The generosity came as a welcome surprise even to some members of the Hospital District Board.
"I did not know that," said District Trustee Karen Deigl, echoing the reactions of at least two other trustees.
Cleveland Clinic said no one will be turned away at physicians' offices, any more than they would be turned away at the hospital.
"There is no cap or limit on the number of patients receiving assistance," said hospital spokeswoman Angela Dickens.