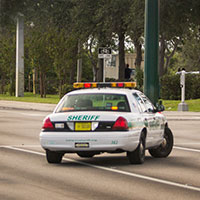 Sheriff and deputies deadlocked over pay raises
STORY BY NICOLE RODRIGUEZ

The Indian River County Sheriff's Office and a union representing nearly 150 deputies are hopelessly deadlocked on how to distribute pay raises after months-long negotiations broke down, triggering a hearing next month before the County Commission intended to end the stalemate.
The sheriff and Indian River County Deputies Association – part of the International Union of Police Associations – will have a showdown on Sept. 13 before the County Commission after meeting numerous times last year without reaching an agreement and then disagreeing in June over the recommendations of a special magistrate called in to referee the matter.
The commission at the upcoming meeting must render a final decision on raising base salaries and how to distribute pay increases for 149 deputies for the current budget year, which ends in late September.
The stalemate started on Dec. 3 when the union sent Undersheriff James Harpring a letter declaring an official impasse in negotiations, Indian River County Detective Joseph Karman said.
The union sides with the recommendation of special magistrate Dennis Campagna to start new deputies at $42,000 a year – roughly $3,000 more than the current starting salary of $38,950; increase the top of the pay scale for long-employed deputies from $63,151 to $65,867; and give all other deputies a 4.3 percent raise.
Sheriff Deryl Loar, however, rejected Campagna's suggestions and plans to ask the County Commission to approve a 5 percent increase in base pay effective the first full pay period in October 2018 for deputies not within 5 percent of the maximum pay grade; give deputies who are topped out a lump-sum increase of $1,500; raise the starting salary to $42,000; adjust the salary for deputies hired after April 30, 2017, from $38,950 to $42,500; and adjust the salary for deputies hired after April 30, 2018, from $38,950 to $42,000. Loar is also proposing that deputies who are within 5 percent of the maximum pay grade get a salary bump to the top of the pay grade.
Karman said the sheriff's proposal fails to award veteran officers the raises they deserve. Only Fellsmere police officers are paid less than Indian River County deputies out of all the Treasure Coast agencies, Karman added.