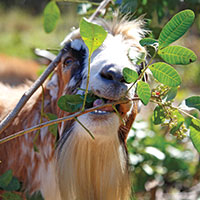 County's new weapon against invasive plants: A goat herd
STORY BY SUE COCKING

Indian River County's latest weapon in its longstanding war to reclaim conservation lands from invasive plants like Brazilian pepper is friendly, cute, cuddly – and effective. 
It has managed to devour most of a dense forest of pepper trees covering five acres of former citrus grove west of Vero Beach just since August. At the same time, it has done a number on other exotic vegetation at the county-owned site, gobbling up guinea grass, Caesar weed, Peruvian primrose willow, and a bush called Turk's Turban.
The secret weapon is a herd of goats tended by goatherder Steven Slatem, who recently started a company in Melbourne that deploys the animals wherever needed to chow down on pesky plants. Indian River County is one of Slatem's first customers.
"It's a pilot project for us," said Beth Powell, the county's conservation lands manager. "We don't have anything to lose here. Can we tip the balance from non-native to native with the goats' help? We don't know the answer yet. They've done a great job, and their herder is a good part of their success."
Powell said the goats are one part of the county's integrated approach to controlling invasive species; it also employs herbicides, mechanical equipment and biological controls – like insects that only eat a specific plant – to stop the spread of plants from other parts of the world that crowd out native species.
"It does have some potential to reduce herbicide use and improve habitat quality," Powell said of the goat herd.
Brazilian pepper – the chief invader on county lands and throughout Florida – was introduced to the Sunshine State in the late 1800s as an ornamental plant. It now covers more than 700,000 acres across the state, competing for food and water with native plants.
Recently, biologists from the University of Florida Institute of Food and Agricultural Sciences released tiny insects called thrips at the sprawling Adams Ranch in St. Lucie County to feed on stems and flowers of the pepper trees as another means of controlling the aggressive plant. Powell said plans call for a thrip release soon in Indian River County, on county-owned land next to the goats' foraging site.
"The goats are getting a head start on the thrips," Powell said – chewing the pepper in their fenced pen down to the roots under Slatem's watchful and affectionate gaze.
The goats are sleek, healthy and friendly – taking a break from gobbling down pepper leaves to follow and nuzzle several visitors at the site last week. The males sometimes butt each other with their horns in mock combat, then go right back to eating.
Powell said a second herd is slated to occupy 25 acres of county conservation land off Roseland Road north of Sebastian; their primary job will be to clear pepper trees away from the burrows of protected gopher tortoises, avoiding the use of mechanical equipment that might harm the reptiles.
"Can the goats come in and do the work of the bush hog?" Powell asked, and then answered her own question: "We think the goats can improve the quality of the habitat out there."
Right now, the county is keeping the goats' exact locations under wraps to protect their health and prevent human interference with their work. But Powell said a public education program may be mounted later to introduce local residents to the goats and demonstrate the services they provide.
The total cost of "Goatland" – as some county employees call the pilot project – is about $24,000, with a Florida Fish and Wildlife Conservation Commission grant covering $7,500 and the rest coming from county funds.