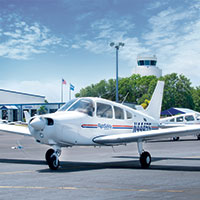 FlightSafety Academy surrenders accreditation
STORY BY RAY MCNULTY

Nationally known FlightSafety Academy in Vero Beach has been training entry-level pilots and filling the cockpits of commercial airlines and corporate carriers across America and around the world for more than 50 years.
In fact, a FlightSafety executive said last week that 25,000 of the academy's graduates have gone on to become professional pilots since the company's founder, Albert L. Ueltschi, opened the school at what is now Vero Beach Regional Airport in 1966.
For the past three months, however, the academy has been operating without accreditation, which it surrendered on Aug. 30, ending a three-year struggle to comply with standards set by a long-established, U.S. Department of Education-recognized organization that evaluates post-secondary vocational and technical schools.
Among the more-alarming deficiencies cited by the Accrediting Commission of Career Schools and Colleges (ACCSC), which had placed the academy on "warning" in 2017 and then "probation" in 2018, was a failure to maintain a graduation rate of at least 50 percent for its professional pilot program.
According to the ACCSC, the academy's reported graduation rates for that program plummeted from 38 percent in July 2016 to 14 percent in July 2017 to only 3 percent in February 2018.
"The commission found that the graduation rate for the professional pilot program continues to deteriorate," ACCSC Executive Director Michale McComis wrote in a June 6, 2018, letter to Academy Manager Peter Nily.
McComis added: "The commission cannot overlook that, as of the February 2018 report date on the Graduation and Employment Chart, the graduation rate for the professional pilot program not only falls 37 percent below the graduation benchmark, but is representative of only one student successfully graduating from the program."
Those numbers prompted the ACCSC, which had issued a detailed "warning letter" in December 2017, to place the academy on probation in June 2018.
FlightSafety officials apparently addressed the commission's concerns and made the necessary corrections, because the ACCSC vacated its probation order in December 2018 and renewed the academy's accreditation through April 2020.
Despite being back in compliance with ACCSC standards, however, FlightSafety officials decided last summer to sever ties with the accreditor.
Nily informed students of the academy's decision to "voluntarily withdraw" from the ACCSC in a letter dated Sept. 27 – nearly a month after the flight school surrendered its accreditation, which it had held since the 1970s.
In his letter, Nily wrote that "FlightSafety has taken a researched evaluation of our programs in relation to the demands for our pilots" and decided to focus its "administrative resources" entirely on Federal Aviation Administration certifications and ratings "to best serve our students and the aviation community waiting to hire them."
He also wrote that the academy was "in good standing with the ACCSC," adding that the withdrawal "will not change or have any negative effect on our current students or training programs."
Reached at his office at the Vero Beach airport, Nily declined an interview, referring all inquiries to Steve Phillips, vice president for communications at FlightSafety International's New York headquarters.
Phillips downplayed the absence of accreditation, saying, "There's no negative story here. What we do is a positive thing. What we're doing in Vero Beach is a good thing – good for FlightSafety, our students and the industry."
He said withdrawing from the ACCSC "doesn't mean a whole lot" and that the accreditation "doesn't add any value to the school" because the academy's programs are regulated by the FAA and U.S. Department of Transportation.
"If there was a benefit to being accredited," Phillips said, "we would be," despite the fact that FlightSafety did maintain its accreditation for more than four decades.
Aiming to refute any inference the academy is struggling, Phillips said the school's current enrollment is "about 500 students," though the exact number fluctuates depending on the time of year and from year to year.
If anything, the academy's enrollment has increased in recent years because of a national and global shortage of pilots, Phillips claimed, adding that the school is equipped with 70 airplanes – which can be seen taking off and landing dozens of times each day – and employs 250 people.
He said 65 percent of the academy's students come from outside the United States, and many of them are sponsored by airlines in their home countries.
"FlightSafety contributes significantly to the local economy," Phillips said.
Established in 1965 and based in Arlington, Va., the Accrediting Commission of Career Schools and Colleges is a privately owned, nonprofit organization that evaluates and accredits post-secondary educational institutions, primarily vocational and technical schools.
Nearly 800 schools serving more than 250,000 students are accredited by the ACCSC, which assesses an institution's administration and management, educational requirements and faculty qualifications, as well as its student recruiting and admissions policies and student achievement.
Three other Florida-based flight schools are still accredited by the ACCSC: Aviator College of Aeronautical Science and Technology, which has campuses in Fort Pierce and Kissimmee; L3 Harris Commercial Aviation and Airline Academy in Sanford; and Pelican Flight Training in Pembroke Pines.
McComis said seeking accreditation from the ACCSC is voluntary, but he believes the sanctioning and standards set by the commission benefits the schools it oversees and the students who attend them.
He said accreditation also can impact the availability of government funding for student financial aid and the securing of visas for foreign students.
"You need to attend an accredited institution to be eligible for federal funds and programs," McComis said. "And, typically, accreditation is a requirement for international students to attend schools in the United States."
Phillips, though, said the academy's lack of accreditation will not limit students' financial aid sources, nor will it make it more difficult for foreign students to obtain visas.
Pierre Lavial, vice president for academic affairs at Aviator College in Fort Pierce, said the "multiple benefits" to being an accredited school go beyond student eligibility for federal grants and loans.
"The standards, the reviews, the accountability – it's all part of being accredited, and it provides a better environment for students," said Lavial, a former French Navy pilot who also serves as an FAA examiner at the school, which has 500 students in Fort Pierce, 300 in Kissimmee and also offers associate's degrees.
"But adhering to the accreditation standards and going through the reviews takes a lot of effort and resources," he added. "It costs us at least $15,000 per year, based on our enrollment and annual financial reports. For us, it's worth it."
According to the FlightSafety's catalogue, the Commercial Pilot Program runs 10 months and the tuition is just under $60,000, while the Professional Career Pilot Program runs 15 months and the tuition is just under $84,000.
The International Professional Pilot Program runs 15 months and the tuition is just over $111,000 or just under $84,000, depending on the specific program selected.
Those dollar amounts do not include additional costs, such as housing, meals, headsets, FAA examiner fees and aircraft rental.
More than a dozen current academy students were approached by Vero Beach 32963, but all refused to be interviewed for this story, declining to give their names and saying only that they were unaware the school was no longer accredited.
The plummeting graduation rate in the academy's professional pilot program that pushed ACCSC to place the school on probation was due, at least in part, to a shortage of instructors at the school.
The academy responded to the ACCSC's early warnings by claiming it would put into effect new incentives – including referral bonuses for current employees who helped recruit new flight instructors, and bonuses for newly hired instructors – and put out more job postings, embracing social-media marketing to attract new instructors.
The academy also hoped to increase graduation rates by "improving the flow of training" to directly impact student motivation and program completion rates. In addition to adding instructors, the school planned to increase the time faculty spent interacting with students and implement stronger controls on training quality.
Despite those initiatives, the ACCSC wasn't convinced the academy could raise the graduation rates for its professional pilot program to a minimally acceptable level, noting that the rate continued to worsen after the school received the December 2017 warning letter.