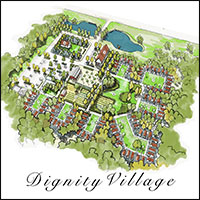 The Source plans Dignity Village, 100 tiny homes for homeless
STORY BY NICOLE RODRIGUEZ

A well-established Vero Beach charity plans to build a picturesque but highly functional village of 100 tiny homes in south county to provide housing for homeless people and people in danger of becoming homeless in Indian River County.
The Source, a Vero Beach-based Christian ministry that provides cold night shelter, emergency hunger relief, counseling and benefit referrals to the county's growing homeless population, has already raised $500,000 of $2.7 million needed to purchase the 25-acre property where it plans to build Dignity Village, according to the organization's executive director, Anthony Zorbaugh.
The village will include an administration and services building, an event pavilion, a chapel, a community garden and village green, along with clusters of 500-square-foot homes.
The nonprofit recently had to change its plan to transform its former 4,000-square-foot thrift store at 1239 16th Street into an overnight shelter for 100 homeless individuals enrolled in job training programs after the building was sold, Zorbaugh said.
Many of the services The Source offers at its current location would be transferred to its new south county facility when it's complete. The "Main Building" is expected to take a year to build, while the tiny homes would be built in phases, at a cost of $27,500 each. Rent would be $400.
The tiny homes aren't just for the homeless, Zorbaugh added. They're also intended for individuals one paycheck away from losing a roof over their heads.
"The housing first model works," Zorbaugh said. "If we can provide people with housing and wrap services around them, people are more likely to be successful."
The charitable organization, which receives no government assistance, is relying on generous Vero residents to help make Dignity Village happen in order to improve the lives of homeless citizens.
A Department of Housing and Urban Development survey taken this year found nearly 500 homeless people living in Indian River County, an increase of about 8 percent from the prior year.
"We solely rely on donors in our community and we need their support to help transform lives," Zorbaugh said.