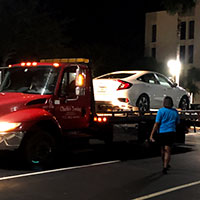 Tow trucks busy hauling cars out of Old Dixie lot
STORY BY RAY MCNULTY

If you're going to park in the downtown lot across Old Dixie Highway from the Kilted Mermaid and Fishack after 5 p.m. weekdays or any time of day on weekends, be sure you pay or your car probably will be towed.
Towing was infrequent during late summer and early fall after Deerfield Beach-based Global Parking Services began enforcing its pay-to-park system, which charges customers $4 per hour.
In September, only four cars were towed from the lot, but that same number were hooked up and hauled away last Friday night, when Vero Beach 32963 witnessed two cars being removed within a 30-minute span.
A total of 33 vehicles were towed in November.
"We're not in the towing business," Global executive assistant Margarita Perez said Monday. "We don't wake up on Friday mornings waiting to see how many vehicles we're going to tow that weekend. It doesn't make us happy.
"We started our business there in May, and we gave a three-month grace period to let people get used to it being a paid-parking lot," she added. "We didn't start towing until August, and the owners of the establishments there – Fishack, Kilted Mermaid and American Icon Brewery – know it's a pay-to-park lot."
But do their customers?
Kilted Mermaid co-owner Linda Moore said she and her employees try to warn customers, but she's concerned that many seasonal residents, visitors and newcomers to Vero Beach don't know they must now pay to park in that lot.
"The signage is inadequate," she said.
At the very least, it's confusing: While blue-and-white signs, each with a large "P" on them to indicate public parking, are posted along the exterior of the property, red-and-white signs at the lot's entrances warn that it is a "TOW AWAY ZONE" 24 hours a day, seven days a week.
There's no sign at any of the entrances identifying the facility as a pay-to-park lot, nor is there any sign informing customers of the cost to park.
Not until you're onto the lot will you find occasional blue signs stating – in relatively small print – that you must pay to park there.
To find out the cost to park in the lot, you must walk to a pay station, where you can pay cash or use a credit card. Global also offers an app that allows customers to pay via their smartphones and provides notifications that the time you paid for is about to expire.
"I saw no signs that said, 'PAID PARKING,' but I wasn't really looking for any, either, because I had parked there many times before without paying," said Raya Darby Cox, whose car was towed on Nov. 23, when she spent an hour at the Kilted Mermaid.
"It was dark out, and I was concentrating on looking for a parking space," she added. "I hadn't been there in a while, and I didn't know you had to pay. So when I came outside and my car was gone, I thought it had been stolen.
"It never occurred to me that it was towed."
Cox said she remembered seeing a "girl in a blue shirt" – the Global attendant who works the lot – "but she never said anything to me, never gave me any kind of warning."
Instead, Cox said she was forced to borrow $140 in cash to get her car back from Charlie's Towing the next day.
Kenny Byrd, co-owner of Charlie's Towing, said many of the people who've had their cars towed from the lot told him they didn't know they needed to pay to park there.
"It's unfortunate that people aren't paying attention," Byrd said. "But I've also seen the attendant tell people they need to pay, and they just ignore her."
Byrd said he's heard complaints from people who angrily accuse his company of giving "kickbacks" to Global, and he called them ridiculous. Perez also denied participating in any scheme that violates Florida law.
"We don't care if they charge for parking, but this seems a little suspicious," Moore said. "They have an attendant out there on site, but you never see her attempt to get anyone to pay for parking. She sits in her car and waits until the people walk away, apparently not knowing they have to pay, and then she immediately calls a tow truck.
"They even get the people who pay for parking but go over their time," she added. "As soon as soon as they go past time, the tow truck is there. It all seems very predatory."
The privately owned lot was purchased as part of the Vero Beach Financial Center by a North Miami-based investment group that spent nearly $7 million to acquire the downtown complex in November 2018.
The lot was built to provide on-site parking to the tenants of the two office buildings to its immediate north, but the property's owners are leasing the facility to Global, which hopes to turn a profit by charging the public to park there on nights and weekends.
It marked the first time a paid-parking system had been installed in Vero Beach since the city leaders ordered the removal of street-side meters decades ago.
According to the Vero Beach Police Department, which must be notified every time Charlie's Towing removes a car from that lot, five cars were towed in August, four in September and five in October before the number soared to 33 in November – the start of the community's busy season.
Local realtor Herb Hogan, who frequents the Kilted Mermaid, said he and others have run out to warn customers who parked without paying, especially when they see a tow truck on the lot.
"I've seen multiple trucks taking cars out of there," Hogan said, "and I've seen people running out to their cars, which are already on the truck."
Perez conceded that some people could be confused by the conflicting signage, but she said the "TOW AWAY ZONE" signs should be a "red flag" that alerts them to a need to explore the requirements for parking in that lot.
She said Global has no plans to add or improve the signage at the lot.
Perez also said the attendant may – and does – tell unknowing customers they need to pay to park there, but only when she isn't tending to other duties, which include helping people use the pay station, checking for vehicles that were parked without payment and calling the tow trucks.
"Chasing down people who didn't pay isn't her first priority," Perez said.
Perez said the attendant has the discretion to offer a grace period, depending on whether the lot is crowded, but it's not required.
"It bothers us when we have to tow, because we know complaints are coming and it's a very uncomfortable situation," Perez said. "But we're providing a service to the community. We're providing a safe, clean, well-lit parking lot with an attendant there to help. That's our business.
"If you park for free, you're stealing from us."