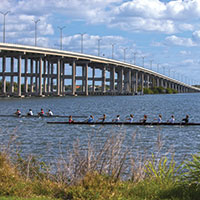 City Council approves site plan for Rowing Club boathouse
STORY BY SAMANTHA ROHLFING BAITA

The Indian River Rowing Club is a big step closer to having its own boathouse on the river in Vero Beach following the City Council's 5-0 approval of the club's site plan last week.
"That was the last functional hoop we had to jump though," said club secretary and former Notre Dame rower Shotsi Lajoie, who sounded both relieved and excited to finally get a green light from the city to move the project forward. "We are very happy."
Back in November 2015, the club, officially named Vero Beach Rowing Inc., signed a 25-year lease with the city for a 1.66-acre piece of property behind the Volunteer Ambulance Squad in MacWilliams Park at the eastern end of the Merrill Barber Bridge. The $25-a-year lease includes an option to renegotiate for another 25 years in 2040. 
According to the site plan application, the club plans to build a two-story, 14,734-square-foot structure, the ground floor for boat and "rowing vessel" storage, the second level for the club's office and exercise and training areas.
The rowing club has raised nearly $2 million for the boat house project since launching a fundraising campaign two years ago, much of it from donors who themselves are rowers or rowed in college.
With the city approval in hand, which includes a set of construction requirements, the club will "refine" its plans and cost estimates prior to seeking bids, "so we'll know how much more fundraising we'll need to do," Lajoie said.
No construction company has been chosen for the project, but the club has been talking informally with Proctor Construction about its plans, according to Lajoie.
The club's vision for a boathouse that is "a handsome, functional, well-designed building" that harmonizes with and enhances the beauty and culture of its neighbors in MacWilliams and Riverside parks is reflected in architect renderings by Staffan H. Lundberg Architect LLC that are included in the application packet submitted to the city.
Lajoie said the club hopes to break ground "in a couple of months," adding that club leaders and members are looking forward to the increased community outreach they will be able to do with the new boathouse in place.
Plans include introducing the physical, mental and social benefits of rowing to more residents, providing rowing scholarships for qualified kids, and finding ways to include handicapped individuals in rowing programs.
Vero Beach Rowing Inc. has more than 100 active members, 50 or so adults and 60-70 rowers in junior high and high school, mainly students at St. Edward's, Vero Beach High School and Indian River Charter High School. There is one paid employee: Austin Work, an experienced rower and instructor who came on board in January as rowing director.
Club membership includes many barrier island residents, for whom the new boathouse will be especially convenient, Lajoie said.