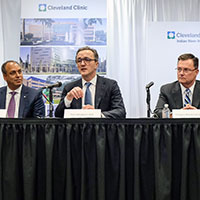 Few immediate changes seen at Cleveland Clinic Indian River
STORY BY MICHELLE GENZ
Photo: Cleveland Clinic Florida President Dr. Wael Barsoum (left), Cleveland Clinic CEO Dr. Tom Mihaljevic (center), and Cleveland Clinic Indian River President Dr. Gregory Rosencrance (right).

The unveiling of the logo of Cleveland Clinic Indian River Hospital at a much-promoted news conference in Port St. Lucie last week was a bit anti-climactic, even though all the top players were present.
The hospital's new name has been in use by Cleveland's marketing department for months now, first uttered publicly last March when the Florida division president and CEO Dr. Wael Barsoum revealed it to leaders of what was then Indian River Medical Center.
The Cleveland takeover is seen as a huge plus for Indian River County by most observers but the drama surrounding the change occurred last fall in the run-up to the vote by the hospital and hospital district boards to approve the change, and in the days before the acquisition papers were signed at the end of December.
The sense of anti-climax last week was "heightened" because few immediate changes are expected at the Vero hospital and three former Martin Health System hospitals recently acquired by Cleveland Clinic Florida.
"You don't need to turn around any of these hospitals," said Barsoum last week. "You don't need to turn around any of these cultures. Because of the alignment, I actually don't think you'll see a change in culture."
Nor will the hospitals see a change in staffing, at least not in the first year, Cleveland executives said.
"Over the course of this first year, every job that presently exists will remain," said Barsoum. "That is something that we've committed to and we think it's the right thing to do for the caregivers and for the communities.
He added that in addition to care of the patients, Cleveland Clinic is committed to caring for caregivers. "That is something that will always be first and foremost in our minds as we look at the efficiencies that come from joining a healthcare system," he said. "There will clearly be opportunities that will take advantage of inefficiencies, but we will do that I think in a very open and transparent way, taking into account what's best for communities and best for caregivers."
What will be new for patients at Indian River as well as at Martin Health?
Barsoum mentioned "an ability to move through the process more quickly, more efficiently . . . when somebody has a highly complex problem, [there will be] easier access to tertiary and quaternary care."
Cleveland Clinic's system-wide CEO and president, Dr. Tom Mihaljevic, added that patients at Indian River and Martin Health would immediately have access to the expertise of Cleveland Clinic's caregivers in Cleveland, including for second opinions.
While those journalists who had been following the Martin Health and Indian River mergers over the past year may have strained to find any news in the news conference, some national healthcare press found it headline-worthy. Healthcare Finance News topped its rewrite of Cleveland's press release with a merger-and-acquisition spin: "Cleveland Clinic broadens footprint in Sunshine State," noting in a subhead Cleveland's combined financial commitments in the two deals – $750 million.
The more widely-read Becker's Hospital Review focused on the name changes – in addition to IRMC becoming Cleveland Clinic Indian River, Martin Health's three hospitals were rebranded too: the old Martin Medical Center is now Cleveland Clinic Martin North; the smaller Port Salerno hospital is now Cleveland Clinic Martin South; and Tradition Medical Center in Port St. Lucie is now Cleveland Clinic Tradition.
The mayor of Port St. Lucie was enthusiastic at the press conference – he read a lengthy proclamation and declared last Wednesday Cleveland Clinic Day – perhaps with good reason.
While Cleveland officials maintain that clinical services will remain the same for now at the various hospitals, the mere siting of the joint media event at Tradition hints at the hospital becoming an anchor in the Florida region. Until now, Cleveland Clinic Florida consisted of one hospital in Weston and several outpatient clinics in Broward and Palm Beach counties.