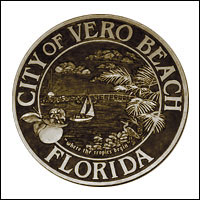 The search for a new city manager: Vero Beach just getting started
STORY BY LISA ZAHNER

The City of Vero Beach has one person on staff who could take over after City Manager Jim O'Connor retires on March 15, but Public Works Director Monte Falls says he isn't interested.
"Monte has told me that he would do it in the interim, but that being the next city manager is not what he wants to do," O'Connor said on Monday.
Falls served as interim manager after the previous city manager, Jim Gabbard,  exited in 2010, and Falls sometimes takes the city manager's seat at council meetings when O'Connor is on vacation or at a conference.
Mayor Harry Howle said he wants to commence a search for O'Connor's replacement this month.
He wants to get someone on board who, like O'Connor, will commit to staying long enough to provide continuity and to make an impact – not someone on the verge of retirement. O'Connor, 70, has been in the position for nearly eight years.
"Monte is great, he has the years of background with the city but he does very well in his current position and has been there a long time," Howle said, adding that he would be very appreciative if Falls agreed to fill in on an interim basis if there's a gap, like he's done previously.
"But it's appropriate that we search, as we have in the past, using a head hunter," Howle said.
Vero-based HR Dynamics handled the last search in 2011, narrowing the field and then setting up Skype interviews with each of the candidates so they could "meet" individually with council members. That helped avoid the cost of flying all the semi-finalists in for interviews.
O'Connor was one of four finalists who was brought to Vero for interviews before the City Council. He was hired by a 4-1 vote with then-councilman Brian Heady dissenting.
O'Connor earns an annual salary of $150,000 plus benefits, but the job his successor will do is significantly different from what O'Connor was hired to manage and accomplish.
Vero no longer runs an electric utility with a $100 million budget. During O'Connor's tenure, the number of city employees has been cut by roughly one fourth. And the headaches have likely been reduced by much more than 25 percent.
With the complex and highly contentious battle to sell the city's electric utility in the rearview mirror, managing Vero Beach going forward will focus more on the things municipal government traditionally focuses on – roads, parks, drainage and public safety.
Vero could get some applicants from not too far away, as the former city managers of Sebastian, Palm Bay and Melbourne are all looking for jobs. At least two of those men won't be hired by the Town of Indian River Shores on Jan. 24, or whenever the Shores makes a final decision about its own top manager job.