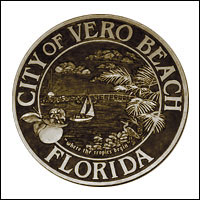 Vero may consider local talent in search for new city manager
STORY BY LISA ZAHNER

The current Vero Beach City Council debates many issues, and discussions sometimes get testy. But one thing council members agree on is that City Manager Jim O'Connor will leave enormous shoes to fill.
Realizing what a job they have in front of them as they seek his replacement, the council decided that – parallel to hiring a search firm to recruit and filter qualified candidates – they would also consider people they already know.
Mayor Harry Howle pointed out at least four talented local people who might want to step forward. He said he would like to get "some people who have an idea of our local ins and outs to participate if they're interested.
"If Joe Baird wanted to apply, then he should apply," Howle said. Former county administrator Joe Baird, an Indian River Shores resident, has been working as a government affairs consultant for Republic Services.
Howle pointed to retiring Shores Town Manager Robbie Stabe, who indicated he'd like to stay on the job there even as the Shores Town Council searches for his replacement.
Then there is Fellsmere City Manager Jason Nunemaker, who is well-respected for what he's done for Indian River County's most westerly city.
Howle also mentioned lobbyist Matt Mohler, who has worked in Tallahassee and behind the scenes on various city issues, including the electric sale.
O'Connor pointed out that after the Shores makes its scheduled final decision on a manager on Thursday, two potential candidates of the three under consideration will still be available. Those three are former Sebastian city manager Joe Griffin, former Melbourne city manager Mike McNees and former Palm Bay city manager Gregg Lynk.
But to cast the net as widely as possible, Vero plans in the next two weeks to put out a Request for Proposals to search firms to find the next manager to replace O'Connor, a city manager with more than 40 years' experience.
O'Connor suggested the city also place an advertisement with the International City and County Managers Association.
"We can do it simultaneously," Councilman Tony Young said, also proposing that in case the process gets drawn out past O'Connor's last day of March 15, Public Works Director Monte Falls serve as interim city manager.
Falls said he would fill in for a limited time, but that he's not interested in the job permanently.
"I appreciate the confidence," Falls said.  "As I've expressed to Jim, I've done this once before, it was a really stressful time. I'm not a trained city manager and I don't have the criteria that you're looking for. But I do love this city, and I've worked for the city for 28 years."
Young said, realistically, the city could hope to have the new manager on board by June or July "if we move with dispatch."
City Attorney Wayne Coment also just retired, so the city needs to determine whether to manage legal work with the existing staff, or to conduct a search for a new city attorney as well.
Councilman Val Zudans and Councilman Lange Sykes both said they saw the city attorney vacancy as a chance to downsize the legal office and save some money.
"I'm actually satisfied with the status quo to be honest," Zudans said, referring to keeping acting city attorney Kira Honse on in the lead role.
Zudans reminded the council that the budget process is coming up and that for the next five years they need to find $500,000 in budget cuts, and that one fewer attorney would make this challenge easier.
"If they can handle the workload, that's great," Howle said.  "If it becomes an issue, we'll address it then."