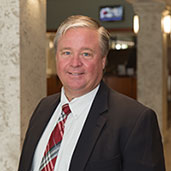 Wesley Davis seen likely to shake up office of property appraiser
STORY BY LISA ZAHNER
Photo: Wesley Davis

Former County Commission Chair Wesley Davis got an early 49th birthday present on Monday – a really big one.
At 5 p.m. nine days before next Wednesday's birthday, Davis announced he'd gotten the long-awaited call telling him outgoing Gov. Rick Scott had appointed him by executive order, effective immediately, to be the next Indian River County Property Appraiser.
Davis fills the office vacated when David Nolte died in November. Davis, who ran against Nolte in the 2016 Republican primary, will serve out the balance of Nolte's term until January 2021.
"I thank the governor and his staff for their confidence in me. I'd also like to thank the voters and all the people who supported my appointment," said Davis, a Wabasso resident.
Weeks prior to Nolte's death in office from an extended illness, the entrenched property appraiser had recommended his loyal, longtime deputy, Sissy Long, to take over for him and extend his nearly 40-year administration. It is rare for Florida governors to go against the wishes of a county constitutional officeholder in an appointment like this one.
In this case, Scott's appointment of Davis – the most recent political challenger – almost ensures a hard look at current personnel, policies, technology and operations.
"It's humbling to know that our governor spent some of his last moments in office, caring so much about Indian River County to fill this vacancy. I pledge to make the governor and every Indian River County resident proud," Davis said.
Local reaction to Davis' good fortune was positive. County Commissioner Tim Zorc, who served with Davis for six years on the county commission, said the appointment was "good news," adding, "Wesley will do an excellent job."
"There are some immediate issues of the property appraiser that need to be taken care of, one of which is the fact that we do not have an analysis of the property tax implications of the sale of Vero Electric to Florida Power & Light," Zorc said.
"This sale has been going on for 10 years and we still don't have that information. Wesley will be able to get things like this addressed."
Taxpayers Association of Indian River County Treasurer Glenn Heran concurred with Zorc that Davis will be a big improvement in the office. "I congratulate Wesley on the appointment, he is exceptionally well qualified." Heran had considered applying for the position, but instead supported Davis as the best person for the job.
A fourth-generation Indian River County resident and University of Florida alum, Davis has worked in the real estate auction and appraisal business for more than 20 years, while carrying on his family's long history of agriculture and livestock ranching.
One thing Davis promised to do if he ever sat at the property appraiser's desk is to conduct a comprehensive audit of the office. Heran said the public, and especially his taxpayers group, will hold him to that.
"I look forward to greater transparency in the property appraiser's office and I know that Wesley will follow through on his promise to open up the operations to a full audit. Involving a citizen panel of qualified professionals, as the school board recently did, would be ideal," Heran said. "After one officeholder being in place for 38 years, now is the time for a clean slate and some sunshine on how this important agency serves the taxpayers."
Davis was not available for further comment.