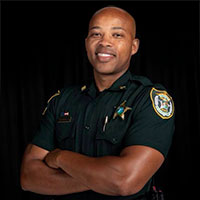 Capt. Milo Thornton promoted to high-ranking position
STORY BY RAY MCNULTY

The highest-ranking black law enforcement officer in the 94-year history of Indian River County, Sheriff's Capt. Milo Thornton, has been promoted again.
Thornton last week was promoted to major, making him one of the agency's highest-ranking members – with the same rank as Eric Flowers and Selby Strickland – behind only Sheriff Deryl Loar and Undersheriff Jim Harpring.
Loar already has announced his endorsement of Flowers' 2020 candidacy to succeed him as sheriff, but he said Thornton also possesses the background and leadership qualities necessary to run a law-enforcement agency.
"It wouldn't surprise me to see Milo as a police chief someday," Loar said last weekend, "or in a few years, even run for sheriff."
A black sheriff in Indian River County, which has never elected a black county commissioner or constitutional officer?
"Why not?" Thornton said of the possibility, adding that such a run could be in his future. "That's probably going to scare some people, but I'd be lying if I said the thought hasn't crossed my mind.
"There's no rush, though. I'm only 41. I've got plenty of time."
The vacancy on Loar's command staff was created when Maj. John Burdock retired in January. Loar said he decided to promote Thornton based on his job performance, test results and work in the community – not because of his skin color.
"Obviously, this is big stuff in terms of legacy, but that's not why I promoted him," Loar said. "I've been impressed by Milo from the first time I met him as a young deputy and, throughout my years as sheriff, he has done everything he needed to do to earn this opportunity. He's getting this promotion because he deserves it."
The promotion puts Thornton in charge of the Sheriff's Office's Bureau of Administration, where he'll replace Flowers, who has been moved into the position vacated by Burdock atop the Bureau of Law Enforcement.
Flowers, though, will retain his duties as the agency's public information officer, while Strickland will continue to head the Bureau of Corrections.
Thornton, who began life in Fort Pierce before moving to Gifford as a teenager, embarked on his law-enforcement career in 1997 with the St. Lucie County Sheriff's Office, where he started in the corrections division.
He was hired by the Vero Beach Police Department in 1999. After three years as a patrolman and traffic homicide investigator, he joined the Indian River County Sheriff's Office in 2002, earning promotions to sergeant in 2012, lieutenant in March 2016 and captain in February 2017.
In addition, Thornton is an adjunct instructor at his alma mater, Indian River State College, where he has taught at the Treasure Coast Public Safety Training Complex in Fort Pierce for more than a decade.
"When you look at the numbers, I have been promoted quickly, but my promotions have been directly linked to others' retirements," Thornton said. "Positions weren't created for me. Nothing was handed to me. I've just always prepared myself to be the next guy.
"Besides, I'm not motivated by rank; I'm motivated by responsibility," he added. "I've worked every other aspect of law enforcement – patrol, investigations, corrections – and at a supervisory level. This is the next challenge."
As major in charge of the Bureau of Administration, Thornton will oversee more than 50 deputies and 150 civilian employees. His new command will include: school resource officers, courthouse security, human resources, fleet services, central records, information technology, purchasing, government affairs, crime prevention and homeland security.
Sheriff's Office veteran Teddy Floyd said the promotion "speaks volumes" about both Thornton and Loar, and sends a message to not only other black deputies but also to the county's black community as a whole – especially its youth.
"It shows we've evolved from the days when this wasn't possible," Floyd said. "Now, we know it can be done. Now, when we talk to black kids in our community, we can point to Milo and say, 'You can be that. You can shoot for the stars. The opportunity is there.'"
Thornton said he embraces the challenges and expectations that accompany the distinction of being the highest-ranked black law enforcement officer in the county's history, and he's determined to not let down those who've supported him along the way.
"I'd rather be an inspiration," he said, "than an icon."