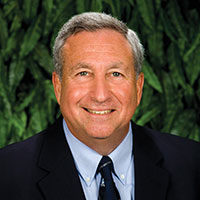 Mersky sees St. Ed's future as 'incredibly bright'
STORY BY MICHELLE GENZ
Photo: Mike Mersky, who retires at the end of this school year as headmaster of St. Edward's.

St. Edward's School's top administrator, Mike Mersky, has a final year to go as headmaster before retirement. But the head-of-school search committee is already heading into the final stretch in its months-long process to find his successor.
Monday, as Mersky returned from vacation to an island campus teeming with summer campers, the search committee was poring over applications, in hopes of whittling them down to a list of semifinalists by August.
When Mersky was hired a decade ago, he was one of nearly 50 applicants.
Mersky announced last November that June 30, 2020 would be his last day as head of school. A search committee, chaired by board member Wendy Porter, was formed, and in February the committee hired Carney Sandoe and Associates, a private school search firm, to conduct a nationwide search.
Just before spring break in March, Carney Sandoe spent two days meeting with St. Ed's staff, students and parents, and then sent out 5,000 surveys to everyone from board members to grandparents. The surveys were intended to provide input for a profile of the position and its requirements that was drawn up to give prospective candidates a sense of what the school offers in terms of opportunities and what it is looking for in a head of school.
Judging by the opinion of St. Ed's Board Chair Kevin Barry, Mersky will be a tough man to top.
"Mike has been a truly phenomenal head of school throughout his tenure," Barry wrote in a letter to parents last fall.
"St. Edward's has been my home for over a decade, and it is only fitting that as a leader, one leaves a place better than one has found it," Mersky said in an email to Vero Beach 32963.
"The development in our school ... has been enormous. The school is as strong as it has ever been in its history of 54 years, and the future looks incredibly bright because of our great family and supporters, because of the strength of our programs, and because of the financial foundations in place."
With a long career in education, including his last post as headmaster of Lancaster Country Day School in Pennsylvania, Mersky came aboard in July 2009 at a pivotal moment in the school's development.
Founded in 1965, St. Edward's had grown by leaps and bounds – and hoped to grow even larger – when it went deeply into debt funding a major expansion in 1999 that required an $18 million letter of credit from Wells Fargo.
When the expected growth did not occur, the school found itself overleveraged and there were rumors it was on the brink of closing its doors. But in the months prior to Mersky's arrival, the board of trustees launched an ambitious $13 million fundraising effort to retire the remaining debt.
While donors were being hit up for pledges, assertive and business-savvy board members, including Ron Edwards and Brian Barefoot, decided to cap tuition hikes, scale back the student body, and reduce financial aid. They also decided to consolidate the school's elementary, middle and high schools  on its main campus on South A1A.
Mersky gets credit for providing successful leadership in a difficult time and in the years since then as the school has regained its financial footing.
A new five-year strategic plan was drawn up last fall that focuses on the students, the staff and sustainability, Mersky said. "I know the new head of school and the board of trustees will see to it that Saint Edward's School remains one of the crown jewels of the Vero Beach and the Treasure Coast communities."