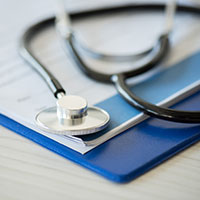 Hospital ratings confuse patients, cause concern
STORY BY MICHELLE GENZ

The drive to turn patients into savvy consumers appears to have stalled again, with the latest Hospital Compare star ratings stirring up more controversy than confidence.
Released last week by the government's Centers for Medi- care and Medicaid Services, the ratings remained unchanged at Indian River County hospitals: two stars out of a possible five for both Cleveland Clinic Indian River and Steward Sebastian River Medical Center, same as the last time they were rated in 2017.
While marketing departments at both hospitals shrugged off the mediocre scores, hospitals elsewhere are loudly complaining about the methodology CMS is using, creating controversy that caused multiple delays in the release of the latest ratings.
Instead of helping consumers make smart choices about where to receive healthcare, the ratings seem to be adding to the confusion patients face when trying to decide on a hospital to call their own.
While Indian River and Sebastian River scored the same in the latest CMS release, they scored differently in last fall's Leapfrog Hospital Safety Grade, in which Indian River was awarded a B and Sebastian River got a C.
In another variance with the CMS scores, which stayed static, both hospitals improved their Leapfrog scores, with Sebastian's jumping from an F to C and Indian River going up from C to B.
Lawnwood Regional Medical Center scored only one star from CMS. Yet Leapfrog gave it an A last fall.
Cleveland Clinic Weston, the Florida flagship of the system Indian River joined in January, scored just one star as well, and got a C from Leapfrog last fall. Yet it was named the No. 1 hospital in the Miami-Fort Lauderdale region in the most recent release of U.S. News and World Report's Best Hospitals rankings.
The sometimes-wild variance in ratings put out by CMS and a multitude of other for-profit and nonprofit ratings entities is not new. A 2015 study published in Health Affairs found that no hospital of the 844 hospitals it reviewed was designated a high performer by all four rating systems the study looked at.
Only 10 percent were rated high-performing by two systems. "Each system uses its own rating methods, has a different focus to its ratings, and stresses different measures of performance," the authors wrote.
The government's Hospital Compare star rating is calculated with information from CMS, the Centers for Disease Control, the Joint Commission – the leading hospital accreditation organization – and other sources. CMS also offers a value-of-care measure, combining outcomes with price.
Both Leapfrog and Consumer Reports focus on safety, though their concept of safety varies, the study points out. Leapfrog's is simple: freedom from harm. Consumer Reports considers the effort hospitals make in keeping patients safe.
Healthgrades emphasizes quality, looking closely at patient outcomes, zeroing in on rates of mortality and complications. U.S. News wants its rankings to show the best hospitals for the "most difficult patients." Further, the rating entities vary in risk adjustment and the ways they handle missing data.
The Health Affairs study also points out that the independence of ratings systems is critical to the veracity of the rankings – if such a thing exists.
U.S. News and Healthgrades are for-profit companies that finance their rating research and raise revenue by charging hospitals to use their rankings in marketing.
Leapfrog and Consumer Reports, which have put out hospital ratings since 2012, are both nonprofit consumer rating organizations. Leapfrog charges hospitals to use their grades for marketing purposes, same as the for-profit companies. Consumer Reports doesn't allow hospitals to tout its rankings and delivers them only to its paid subscribers.
The study concludes that more transparency about how the various ratings are calculated would help enormously in sorting out the differences in ratings systems and outcomes so that consumers, researchers and hospitals could understand what their courses of action should be: for patients, which hospital to go to; for hospitals, what needs to be improved; and for researchers, what ratings mean to improving care.
At Cleveland Clinic Indian River, spokeswoman Angela Dickens seemed surprised by the hospital's repeat of a below-average rating. She said the hospital is intently "focused on patient care and on integration with Cleveland Clinic."
Steward Sebastian River responded to a query about its CMS rating with the same answer it gave last time ratings came out: It is looking to a new electronic health records system, implemented last fall, to address many of the problem issues the hospital faces.
Meanwhile, Sebastian River could be at risk of losing patients to a hospital 20 minutes away – and not Indian River.
Palm Bay Hospital earned four stars from CMS and an A grade from Leapfrog. The hospital is owned by Health First, which also owns Viera Medical Center – five stars on CMS – and Holmes Regional Medical Center in Melbourne, a Level II trauma center with three stars from CMS. 
Holmes also charges far lower trauma fees compared with Lawnwood Regional Medical Center, a one-star rated trauma center in Fort Pierce.
If the low-scoring hospitals are looking past their scores, the highest scoring hospital near our area is positively glowing. The independent, nonprofit Jupiter Medical Center, rumored to have once been wooed by Cleveland Clinic Florida, won a five-star rating from CMS. In a press release, the hospital called it "an extraordinary achievement," and a first among all hospitals in Palm Beach County and on the Treasure Coast.
This time, Leapfrog agreed with CMS, granting Jupiter an A grade last fall and naming it to its list of 117 top hospitals nationwide. Chief Quality Officer Dr. Raymond Golish credited "a focused, sustained, data-driven and structured effort" with raising what was already the best rating in the area – four stars in the prior CMS ratings.