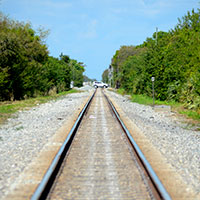 Train critics seek upgraded safety measures for Virgin Trains USA
STORY BY GEORGE ANDREASSI

A new railroad watchdog group wants Gov. Ron DeSantis to require Virgin Trains USA to pay for extra safety measures if the high-speed passenger rail service eventually zips through the Treasure Coast as planned.
The Florida Alliance for Safe Trains is calling upon DeSantis to ratchet up the Florida Department of Transportation's scrutiny of the Virgin Trains project and require stronger safety protections.
Installing security fencing the length of the train tracks to protect against trespassers was among the initiatives FAST promoted during a news conference on Feb. 26 at the Vero Beach Heritage Center.
Additional safety measures are also needed to prevent mishaps at hundreds of at-grade railroad crossings throughout the state, several FAST members said.
There are 32 at-grade railroad crossings on Virgin Trains tracks in Indian River County and 21 in St. Lucie County.
Potential safety initiatives for Virgin Trains operations were among the recommendations in an Oct. 31, 2018 report about the Florida Passenger Rail System by the state Office of Program Policy Analysis and Government Accountability.
Sen. Debbie Mayfield (R-Vero Beach) said she will ask DeSantis, FDOT and new legislative leaders to consider requiring Virgin Trains to institute the safety initiatives outlined in the OPPAGA report.
"I think with the new administration that we have and the new FDOT secretary that has been appointed that we're going to start seeing some of the discussion continue," Mayfield said.
The DeSantis Administration and FDOT did not respond to requests for comment by deadline. Neither did a Virgin Trains spokeswoman.
Federal railroad laws allow states to have more stringent regulations to deal with local safety or security hazards, the OPPAGA report says.
For example, several states require fencing along railroad right-of-ways to prevent trespassing, but Florida does not, the report says. Virgin Trains is expected to reach speeds of up to 110 mph between West Palm Beach and Orlando, well below the 125 mph limit at which federal regulations prohibit at-grade railroad crossings.
"However, there is a gap in regulations for some aspects of safety and operations between 81 mph and 125 mph," the OPPAGA report says. "FDOT is working with diagnostic teams to require a sealed corridor in Florida in an area of higher-speed train operations," the report says.