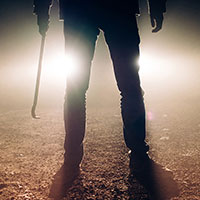 Central Beach burglaries tied to open garages
STORY BY LISA ZAHNER

Two men have been arrested and are being held on high bonds after a rash of burglaries on the island and elsewhere in Vero Beach.
While many homeowners invest in sophisticated home security systems and remote-access door-bell cameras to monitor their property, some neglected to take a very low-tech security measure that could have prevented at least 15 thefts in Central Beach and the Vero Beach Country Club area in the past few weeks.
Garage doors standing wide open in the daytime made easy targets for thieves accused of walking in, sifting through residents' property and lifting hundreds of dollars worth of tools, fitness equipment and other portable items, court records show.
The silver lining is that one of those high-tech security cameras on Sunset Drive captured a suspect entering an open garage, giving police a lead.
Police conducted what they described as a "lengthy investigation" into the thefts, leading to the arrest of Sean Ryan Brady, 30, and Roberto Sanchez Jr., 30, both of Vero Beach. 
Brady faces nine counts of burglary of a dwelling, nine counts of theft, eight counts of dealing in stolen property, and four counts of giving false information to a pawnbroker. As of press time, he was being held at the Indian River County Jail on a $476,000 bond.
Sanchez faces two counts of burglary of a dwelling, five counts of theft, two counts of dealing in stolen property, and two counts of giving false information to a pawn broker. As of press time Sanchez, too, was still in jail on a $141,000 bond.
Court records state Det. Dan Brumley of the Vero Beach Police Department retrieved store records that show Brady "had pawned or sold 27 items from Feb. 15, 2019 through April 16, 2019."
Records show Brady admitted to police that "a few times he went into someone's garage to pick up tools for Sanchez after he (Sanchez) said he left the tools while doing a side job," and that these errands were at Sanchez's behest. He also claimed he sometimes found items in Sanchez's car but did not know where the items had come from.
An affidavit filed by Det. Brumley states that Sanchez admitted to participating in some burglaries. "Sanchez said there were a couple of places beachside, and that he targeted houses with an open garage, looking for tools. Sanchez denied going inside any of the houses other than the garage," the affidavit states. Sanchez also denied sending Brady to locations to pick up tools.
There could well be many more victims who have not yet come forward, as thefts typically are not discovered until the first time the homeowner goes looking for a particular power tool or piece of sporting equipment, and by that time, their property may well have been pawned and re-sold.
As the pawning of the property in question took place from February thought April, some seasonal residents may have shuttered their homes for the summer and gone north not realizing anything had been stolen.
Brady is being represented by Public Defender Diamond Litty's office, and Vero defense attorney Andy Metcalf is representing Sanchez.
Both defendants are set to be arraigned before Judge Dan Vaughn on June 7.