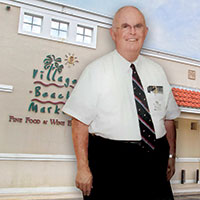 Founder of Village Beach Market dies at 73
STORY BY RAY MCNULTY

Jerry "Butch" Keen, a lifelong grocer who expanded the family business from mainland Vero to the barrier island when he opened the Village Beach Market in 1980, died last week. He was 73.
Alma Lee Loy, affectionately known as the "First Lady of Vero Beach," fondly recalled shopping at one of Keen's supermarkets on the mainland in the 1960s and '70s, when Keen would walk up and ask if she needed assistance.
"He had a quiet way about him, but when you went into his store, he was always helpful and always had a smile on his face," Loy said Monday, one day before Keen's funeral at Crestlawn Cemetery. "I knew Jerry for a lot of years, and he was a really fine man.
"It was a joy to have him as a friend." 
Keen was surrounded by his family when he died April 29 in Vero Beach. According to his son, Jason, Keen succumbed to complications from a brief battle with a rare and aggressive form of lymphoma, which wasn't diagnosed until January, shortly after he discovered a lump in his neck.
"It's been a tough few months," Jason Keen said. "My dad never retired, but before he became ill, I had a goal to get him semi-retired in 18 months. That was a year ago. But he never had a hobby. His hobby was the business.
"He had a passion for food and passion for the people here," he added. "He moved here when he was 5 years old, graduated from Vero Beach High School in 1963 and spent his whole life in this town. He loved Vero Beach, and took a lot of pride in being part of this community."
Jerry Keen's business roots in Vero Beach reach back to 1951, when his father Roy Keen opened what was then Keen's Cabins and Grocery, located on the southwest corner of the intersection of U.S. 1 and 12th Street where Staples is now. Three years later, he expanded the store, which was rebranded as Keen's Grocery.  It became Keen's Supermarket in 1957.
Jerry Keen worked in his father's store as a high school and college student and then took over the business when Roy Keen died in 1966.
Jerry Keen expanded the family grocery business in the 1970s and 1980s. He opened a Keen's Foodtown in Sebastian in 1972 and a store on the island in 1980 that continues today as the Village Market. That store was significantly remodeled in 1998 and is scheduled to undergo another major renovation this summer.
Later in the 1980s, Keen added a fourth location, taking over the former Pantry Pride supermarket site in the Miracle Mile shopping area, but fierce competition from Publix forced him to close the store after 18 months.
Keen closed the Sebastian store in 1993 and the store at U.S. 1 and 12th Street in 1995.
That made Village Beach Market his lone remaining store, though he backed his son's recent interest in adding a second location on the seven-acre parcel owned by Ken Puttick in Orchid – the site of Publix's failed bid to build a supermarket-anchored shopping center.
"He wanted me to be able to grow, just as he did, and he was interested to see how the community there would respond to our proposal," said Jason Keen, the Village Beach Market's chief operating officer. "He was very excited about the remodel we're about to undergo and helping me with the future of the store."
In addition to operating his stores, Jerry Keen served on the Associated Grocers' board of directors for 48 years. He was the chairman of the board for the Retail Grocers Association of Florida in 1980.
Keen, an active member of Kings Baptist Church, also loved baseball – so much so that he sponsored "Grocery Grab" promotions at Vero Beach Dodgers minor-league games and provided funding for numerous local Little League teams.
"There was one year when he sponsored Little League teams in both Vero and Sebastian, and both of them reached the championship game," Jason Keen recalled. "It was Keen's versus Keen's, and my dad didn't want to show any favoritism by sitting on one side or the other.
"So they put two chairs directly behind home plate, and my parents watched the game from there."
Jason Keen said his father, while a well-known figure, was "more of a behind-the-scenes guy" who appreciated people and gave back to the community without calling a lot of attention to himself.
"As successful as he was in business and as many contributions as he made to this community, I'll remember him most for how he treated people," said Loy, who in 1968 became the first woman elected to the Indian River County Commission.
"I don't think Jerry ever forgot a face," she added. "Maybe he couldn't always put a name to it – not right away, anyway – but if he saw you in his store, he'd remember you were a customer."