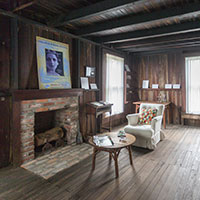 Laura Riding Jackson house will be moved soon to college campus
STORY BY SAMANTHA ROHLFING BAITA

Plans to move the historic Laura Riding Jackson House from the Environmental Learning Center to the Vero Beach campus of Indian River State College have been finalized, and the move is scheduled to take place at the end of the month.
Last week, officials from the college and the Laura Riding Jackson House Foundation met to look over the site on the college campus where the 110-year-old house and its original pole barn will be relocated.
The house is significant as an example of traditional Florida 'cracker' architecture and because it was the longtime home of renowned 20th century poet and literary entrepreneur Laura Riding Jackson.
The college was one of several local organizations that offered to host the house after its removal from the ELC campus.  The college board voted to give the foundation a 15-year, renewable lease agreement at no cost.
"That is what has made it possible for us to do all this," said foundation Board President Marie Stiefel.
So far, the cost to disassemble the wood frame house into several sections and move it 11 miles from the island in the Indian River Lagoon where it is now to the college campus near the Indian River Mall has been pegged at $333,121 – not including the landscaping and preservation, which is estimated at another $100,000. 
Foundation board member Jacque Jacobs said the first task in the large but delicate moving operation will be to break the house into four sections, removing both wings and the second floor, and painstakingly dismantling a portion of the chimney, brick by brick. 
Loaded onto at least four trucks – single-wide for the second floor and wings, and doublewide for the main house – the caravan will negotiate traffic and utility lines on its 3-plus hour journey, taking up two lanes as it crawls forward at 4 miles per hour. 
The slow motion parade will head west on the Wabasso Causeway, across U.S. 1 on route 510 to 58th Avenue; then go south on 58th to 77th Street and west on  77th west to 66th Avenue; then south on 66th across State Road 60, turning east on College Lane and finally "bringing it across the grass" to its new home – a .71-acre site in the field behind the Brackett Library.