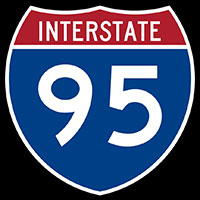 Oslo Road interchange: Last big I-95 project here
STORY BY GEORGE ANDREASSI

Interstate 95 will remain three lanes in each direction in Indian River County through at least 2045 because traffic projections show no need for widening, state transportation officials said last week.
And once FDOT completes the $45 million Oslo Road Interchange, estimated for 2027, I-95 in Indian River County won't require any more major work for about two decades.
"We're not anticipating any need to widen I-95 in Indian River County," said FDOT consultant Eric Penfield, of RS&H of Fort Lauderdale. "It should work pretty well through 2045."
About 45,000 vehicles per day travel on I-95 in Indian River County, state records show.
FDOT anticipates widening I-95 to eight lanes the entire length of Martin County north to Okeechobee Road/State Road 70 in St. Lucie County, records show.
I-95 is already eight lanes between Okeechobee and Indrio roads in St. Lucie County.