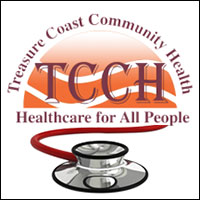 Treasure Coast Community Health to take over Gifford Health Center
STORY BY MICHELLE GENZ

A racially charged grilling by a Gifford community leader did not derail a vote last week by a Hospital District-appointed committee which recommended that Treasure Coast Community Health Care take over the Gifford Health Center this fall.
A final vote by the full Hospital District board was set for Tuesday, after this paper's press time. Assuming the vote went Treasure Coast's way, effective Oct. 1, the low-cost healthcare provider will offer an expanded slate of services at the clinic that will include adult and pediatric primary care, mental healthcare and substance abuse treatment, an on-site lab and eventually a pharmacy. There will be extended hours two evenings a week and possibly on Saturdays.
Two existing programs housed at the clinic will remain: Healthy Start, a pre- and post-natal care program, and We Care, which provides free specialized medical care to the poor through physician volunteers. Both will continue to operate under the auspices of the Health Department, which has run the clinic for the past 15 years.
The district-appointed committee's recommendation that Treasure Coast operate the Gifford Health Center was unanimous, but the selection followed a heated three-hour discussion fueled by decades-old distrust between races and classes.
From the moment the Hospital District proposed expanding services at the clinic a year ago, Gifford community leaders and the Gifford Health Council wanted the Health Department to continue providing care. The Health Department has developed strong relationships in the community with a long-standing policy of giving free care to the poor.
Treasure Coast charges on a sliding fee scale, and while care must be free by federal law for those earning less than 100 percent of federal poverty guidelines, the law does allow clinics to charge a nominal fee, which TCCH does at its other locations in Vero. Officials say the fee, which ranges from $5 to $25, is intended to make patients feel invested in their care.
Whether TCCH asks for such a fee at Gifford may still be up for discussion. "The cost-to-patient issue is an issue we need to work on collaboratively to fix," said Trustee Allen Jones. "I understand the concept of skin in the game and dignity. I agree with that. But I think what's most important is the people that need the care get the care ... so we need to solve that."
The leader of the Gifford Health Council, Freddie Woolfork, was a member of the selection committee. By the end of Wednesday's three-hour meeting, he voted to recommend Treasure Coast, but not before considerable pushback from another Gifford Health Council member, Tony Brown.
Brown claimed the selection process was unfairly skewed to Treasure Coast from the start.
"I think it was a predetermined position that Treasure Coast was going to get this," said Brown. "As the president of the NAACP, this will not be over today. I'm doing some public information requests because there is some stuff that went on that I am not pleased with."
Brown went on to say a "corporate entity" like Treasure Coast Community Health or Whole Family Health Center, which competed with TCCH to operate the clinic, could not be trusted in the way the Health Department was.
Repeatedly, he insisted that the Hospital District trustees, all of whom are white, could not comprehend the hardship in Gifford, a community that for generations has been predominantly black and poor.
Brown later said he thought his comments provoked several Hospital District board members to rise from their seats as if to leave; they later left early but it turned out they left early due to work and family obligations. "I did not leave in protest," said District trustee Marybeth Cunningham, one of the three.
But in the meeting, Hospital District trustee Michael Weiss openly called the criticism "ridiculous."
Fewer than a half-dozen Gifford residents turned out for the meeting, despite its being held in the Gifford Youth Activities Center. Only one joined Brown in his protests: Sylvester McIntosh, 71, the former head of the Wabasso Civic League and a longtime preacher.
McIntosh took Treasure Coast CEO Vicki Soule's promise of a get-acquainted barbecue as a throwback to an era when whites tried to "hook" blacks with free food. He took umbrage when District trustee Tracey Zudans spoke of the board as "we" and the Gifford community as "you all."
"We've heard that racial stigma language all our lives," McIntosh said.
At one point, the two sides resorted to dueling Bible verses – McIntosh paraphrasing from memory; Zudans appearing to read from her iPhone.
In a quavering voice, Zudans accused Brown of aggression as he loudly criticized Hospital District intentions.
"Lady, you don't know me," Brown told Zudans. "That was mild. This is not anger, this is passion. This is concern. If you don't get this right, there won't be a second chance."
The Gifford Health Center opened with Hospital District funding in 1996 in a leak-plagued building that had served as Gifford Middle School. When that building was slated for demolition in 2003, the Hospital District provided the bulk of the $2.6 million needed to build the current clinic across the street from the school, with the Health Department providing services there.
But in recent years, the state has slashed Health Department funding for primary care in counties across the state, causing many departments to end those services, and in 2016 a change in Hospital District funding methods resulted in a 60 percent decrease in Health Department funding. By 2018, only pediatric care remained at the Gifford center.
When the Hospital District decided to restore and expand care at the Gifford clinic, the Health Department submitted a tentative proposal to run the expanded center, with the strong backing of the Gifford Health Council.
In January, however, after taking a hard look at its finances, the Health Department withdrew its proposal and bowed out, announcing its intention to end services at the Gifford clinic this year.
That left TCCH and Whole Family Health Center, another low-cost care provider, as candidates to run the Gifford clinic.
But Whole Family's proposal was more limited in scope than TCCH's proposal. In the first year, Whole Family would have offered only pediatric primary care full time at Gifford, along with adult walk-in care four days a week. All other patients would have been shuttled to Whole Family's existing Vero clinic on 37th Place.
The Treasure Coast proposal will consolidate care at Gifford that the Hospital District is currently underwriting elsewhere. In the first fiscal year, the district expects to reimburse Treasure Coast nearly $500,000 for services provided at Gifford Health Center.