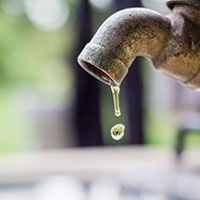 Vero Utilities: No plan for replacing old water pipes
STORY BY LISA ZAHNER

A slightly scary truth emerged last week for Vero Beach Utilities customers who live in older homes, or in older neighborhoods:  The city has no plan, and scant funding, to replace miles of aging – and in many cases, deteriorating – water pipes that carry drinking water to thousands of residents.
The issue came up during a Vero Utilities Commission meeting after complaints from a handful of residents on Silver Moss Drive in John's Island who had been plagued by yellow drinking water caused by a span of old galvanized pipe.
After Indian River Shores put pressure on Vero and commissioned engineering work at its own expense to map out the problem pipe, the city dug up the pipe and replaced it. But town officials speculated that it was only a matter of time before the yellow water – or worse – started popping up in other older neighborhoods all over the town and up and down the barrier island.
Shores Vice Mayor Bob Auwaerter, a former chair of the Vero Utility Commission, made a motion for the Utilities Commission to ask city staff for a full five-year capital improvement plan specifying when and how the city expects to replace the aging pipes.
"What is your plan, or is there a plan for replacing pipes?" Auwaerter asked Vero Water-Sewer Utility Director Rob Bolton at the meeting without getting a direct answer. Auwaerter noted that published consultant studies say the city has iron pipe and asbestos-concrete pipe, and he would think the city would want to phase those materials out.
Bolton said, "I can tell you right now if you want to know about water pipes. We're doing a construction project on 43rd Avenue that we're going to spend roughly $1.3 million or something next year; any of the other ones, we do a replacement as needed."
The city budgets $250,000 per year for the whole system for general replacement of old pipes, Bolton said. "We replace a lot of galvanized pipes with PVC pipes. Eventually we'll get into cast-iron pipes, but we really don't see anything on the horizon that is an issue."
The last major replacement effort was in the 1990s, when Bolton said "millions" were spent on new PVC pipes in places where residents were complaining about yellow water.
"It's just a function of funds available [to us] . . . and we had to do work at the wastewater plant and the water plant over the years," Bolton said. "If there are funds available in the future we'll start looking at the water distribution system of galvanized pipe."
Commission member Robert McCabe echoed Auwaerter's concern that there's no systematic plan to replace these pipes proactively, before they fail. "It does sort of raise the question about whether maybe there should be a plan . . . then over the next 10 to 20 years most of these problem pipes would be replaced."
McCabe said his interest in water quality and what the pipes are made of stems from where he lived before Vero. "I retired from Flint, Michigan."
Bolton said the city has both cast-iron pipe and ductile-iron pipe, and that some of the city's pipe maps don't clearly indicate the type of pipe. The asbestos-concrete pipe, Bolton said, is no problem unless there is construction in the area, at which time those pipes are subject to breakage.
The presence of that type of pipe is reported to FDEP, Bolton said, adding that asbestos is only a problem if you breathe it – that it doesn't break down into the water.
The downtown business district was piped for water in the 1920s and 1930s, so those areas would likely be the first in line for replacement should the city develop a replacement schedule.
But the older areas on the barrier island were developed from the 1950s through the 1980s and Bolton said cast-iron pipe has a 100-year lifespan. "So there's still 20 years, 30 years before we would ever start looking at those areas," he said.
While city officials hope for peak performance from the potable water pipes dating back 40 or 50 years or more, Vero has committed much of its planning energy, funding and manpower to other major projects – not the drinking water distribution system.
For the past four years, utility crews have been busy permitting and installing 350 septic tank effluent pumping systems and pipes to hook up residents with older septic tanks to the sewer system.
Bolton said there were a total of 1,500 septic tanks inside the city limits at the start of the $1 million project, but that crews have struggled just to keep up with customers with faltering septic tanks that could endanger the lagoon. Residents pay for the system and to be hooked up, and they can finance the cost while the city holds a lien on their property.
Moving or replacing the city's 40-year-old wastewater treatment plant on the lagoon is the city's next big funding priority, with that facility approaching the end of its natural life within the next four to five years.  Estimates for relocating it range from $35 million to $50 million.