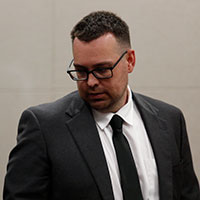 Justice for Duve family took more than five years
STORY BY LISA ZAHNER | NEWS ANALYSIS
Photo :Michael Jones enters the court room before Indian River County Circuit Judge Dan Vaughn reviews his sentencing verdict Nov. 21, 2019.

Prosecutors were disappointed that convicted killer Michael David Jones was not sentenced to death under Florida law. But if there is any consolation, it is that, instead of becoming a death row celebrity, Jones will soon be an anonymous inmate, locked away for life with no parole in some oppressive, nondescript state prison.
Jones will not be anyone special, and his advanced degrees will not matter. He will merely be a number in the Florida Department of Corrections roster. There will be no candlelight vigils, no 11th-hour pleas to the governor for clemency, no well-intentioned efforts to save his life. Soon, very few Indian River County residents will remember Jones existed.
Chief Assistant State Attorney Tom Bakkedahl said he had the utmost respect for the time, attention and energy the jury put into the Jones case. But Bakkedahl says it "really p---es him off" that it took so long to get justice for the family of the woman Jones killed, 26-year-old Moorings resident and Sebastian River Medical Center nurse Diana Duve.
Bakkedahl and co-counsel Assistant State Attorney Brian Workman were involved with the case from the very beginning in the summer of 2014, when Duve was reported missing and foul play was suspected.
"I met Diana's parents when we were getting ready to go to the Grand Jury," Bakkedahl says. "I can remember it just like it was yesterday. I remember saying to them, look, you need to be patient . . . and telling them it would take two or three years."
In the end, it took five and a half years.
Duve's parents sat about 10 feet from Workman and Bakkedahl every single day of the jury selection and the trial. If a day of testimony or a judge's ruling did not go well – there were a couple of those bad days – Bakkedahl and Workman not only had to overcome that and come back swinging in the next round, but they also had to turn around and face Duve's mother.
"You can feel it, that's a lot of pressure. The family is sitting right there," Bakkedahl said.
The state had been essentially ready to try the case for a long time but procrastination on the part of the three-lawyer defense team seemed to have dragged the case out that extra couple of years.
Bakkedahl said the Vero Beach Police Department's detective bureau did an excellent job pulling the evidence together and contacting witnesses. But then prosecutors had to hold that case together while witnesses changed jobs or moved out of state, and while their memories of events became more and more distant.
To compound the situation, the case was continued no fewer than 10 times, which meant three different judges were assigned to it. It started out with Judge Robert Pegg. Then Judge Cynthia Cox inherited the case and tried to keep the defense counsel on track by hauling them into court once a month to report on their progress. Finally, Judge Dan Vaughn took over in January and saw it through.
One huge bone of contention in those unpleasant status conferences with Cox throughout 2017 was the defense's unwillingness to turn over discovery material. The defense's first batch of supplemental discovery was provided to the state on March 20, 2018, according to the official court docket record. By that time, the prosecution had already released 58 batches of discovery documents to the defense.
Under pressure from Judge Cox to get things moving, the defense turned over another batch of documents every two month throughout 2018. Last week, Assistant Public Defender Stanley Glenn reported to Judge Vaughn that Public Defender Diamond Litty's office had known costs to date of $154,436.26 for Jones' defense.
And there are probably bills outstanding. It's tough to imagine that every last invoice from the pricey medical experts the defense used to try to convince the jury Jones had brain damage, trauma from child abuse, and various other maladies has been received – especially since one doctor was still present in court the morning the sentence was handed down.
He had been there to observe for two extra days after he testified, at $300 per hour. The most expensive of the defense experts, radiologist Dr. Michael Foley, told the court his billing rate was $1,000 per hour.
State Attorney Bruce Colton's office presented its own battery of experts to beat back the defense's onslaught of doctors, but the prosecution's tab for the conviction and the sentence of life in prison was not as expensive for taxpayers as the defense's efforts.
"We maybe spent $30,000 on the state's whole case," Bakkedahl said.
What can the taxpayers do about a system that takes five and a half years to try a murder case and spends more than $150,000 to try to keep a defendant like Jones off death row? Sadly, not much.
Would doing away with the death penalty in Florida help stop the bleeding of dollars spent on all these medical experts? Bakkedahl says no, not in his opinion. If there was no death penalty, defense lawyers would then argue that life in prison with no possibility of parole is a cruel and unusual punishment, and the experts would be brought in to reduce the sentences further.
He said that is the trend in the juvenile justice system right now, where "brain science" is pushing up the age where offenders are responsible for their actions to the mid-20s when the brain's frontal lobe is said to be mostly or fully formed.
With 28 years and more than 10 first-degree murder cases under his belt, Bakkedahl is undeterred by these troubling trends in the criminal justice system. In his leadership role, he tells younger prosecutors to meet these challenges head on. Beating the medical experts doesn't require a medical degree or even specialized technical knowledge, he said.
"I always tell the young lawyers coming up, the most important thing is that these experts don't have control of the facts. The facts and the truth," he said. "I can't debate these doctors about their medical specialty, but they can't touch me when I try to understand the facts. All you've got to do is bring out the facts and get to the truth."