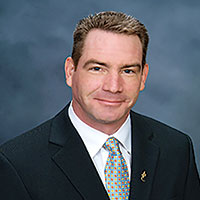 Orchid Island imports golf director from Firestone Country Club
STORY BY RAY MCNULTY

Florida's favorable, year-round climate wasn't the only reason David Champagne decided to leave the famed Firestone Country Club in Akron, Ohio, to become the new director of golf at the Orchid Island Golf & Beach Club.
It was also because he wanted to return to a privately-owned club where he could interact more with members – something his administrative duties prevented at Firestone, which has hosted more than 65 consecutive years of tournament golf, including three PGA Championships, and is currently the home of the Bridgestone Senior Players Championship.
"This is more like the members-owned clubs I worked at in the past," Champagne said after starting his new job earlier this month. "I like the area, and I heard such great things about the club here.
"I've been here only a couple of days, and the people – the members and staff – have been tremendous," he added. "I'm very excited to be here."
Orchid Island General Manager Rob Tench said Champagne, who spent the past 11 years as Firestone's golf director and was the 2017 Northern Ohio PGA Golf Professional of the Year, was selected from a pool of more than 60 applicants. The list was culled to 20 and then to the eight finalists who were interviewed by the club's selection committee.
"We had a lot of elite candidates and, as we moved through the process, all of us on the committee came to the same conclusion – that Dave was our guy," Tench said. "Firestone is a very large club that has hosted national events, and if he can run a club that big, he won't have any trouble with a smaller one like ours.
"He's a smart guy and a good people person who is well-respected by his peers in the industry," he added. "He'll be a great asset to our club."
In his new job, Champagne will oversee the club's entire golf operation – including the course and pro shop – organize tournaments and other activities for members, and give lessons.
Champagne, 46, also plans to play competitively in United States Golf Association, PGA section tournaments. As a college student he played at Slippery Rock University, where the team twice reached the NCAA Division II Championship tournament.
More recently, he was consistently ranked in the top 10 of the PGA Player of the Year standings in the Northern Ohio Section, where he finished seventh in 2010. He also qualified for the PGA Club Professional National Championship in 2006, 2007, 2008 and 2014. He won the 2009 Toledo Open.
Champagne, who is single, is renting a home in Vero Lago while he looks around for a permanent residence.