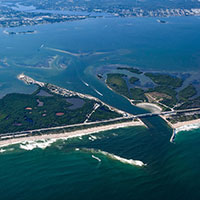 Scientist pinpoints seasonal variations in beach sand loss
STORY BY SUE COCKING

A new report by a Florida Institute of Technology professor synthesizing decades of data confirms what many 32963 beachgoers have observed – that beaches are wider in summer and shrink down to a thin strip in late fall.
These seasonal increases and decreases in beach width and sand volume are due to sea level changes and associated sand loss and gain caused mainly by the location and flow of the Gulf Stream along our coast, according to Dr. Gary Zarillo, FIT professor of ocean engineering and marine sciences.
"Rising sea level corresponds to a period of sand loss and receding sea level corresponds to a gain," Zarillo said. "It's a good piece of information for managing our sand resources. No one should panic because we have a regional sand loss because it will be regained by sea level falling."
Zarillo said he based his findings, presented in his 2019 State of the Inlet report, on long-term data collection he's conducted for the Inlet District, which is charged with keeping the inlet channel open for navigation and managing sand and other natural resources in and around the inlet.
"This data can be employed by all coastal communities as part of coastal resiliency planning, so the reach is far broader than just our local area," Zarillo said.
Zarillo used a wave gauge; acoustic Doppler profiler with sensor heads that measure water pressure and velocity; coastal surveys; aerial photography; and written records going back decades to develop his models and forecasts.
Zarillo said that based on seasonal sea level changes, early summer would be the optimum time for local governments to renourish their eroded beaches, which are vital to tourism.  But that's not possible due to the need to protect threatened and endangered sea turtles which nest on area beaches from May through October.
The Sebastian Inlet District periodically pumps sand out of the inlet and spreads it on beaches south of the inlet. It completed its most recent channel maintenance and beach renourishment project earlier this year, pumping 120,000 cubic yards of sand from its 42-acre sand trap in the inlet onto a stretch of beach extending from the inlet to Ambersand Beach. Another 30,000 cubic yards were stored at a site just north of the inlet for emergency beach fill and dune repair. 
Inlet District executive director James Gray said Zarillo's work has big benefits for the district.
"This can help us adapt our management to assume regional impacts," Gray said. "We may want to, in the future, look at the way we do big projects to follow what Dr. Zarillo's data is showing."
Gray said the District's next major beach project likely will happen in 2023. Meanwhile, he said, sand losses due to Hurricane Dorian's near-miss were minor and the beaches have recovered, so there's no need for emergency repairs.
Indian River County is in the midst of a $6 million beach replenishment, depositing truckloads of sand from an upland mine along more than 3 miles of badly-eroded shoreline that extends from north of the Seawatch Condos in Indian River Shores, south through Vero's Central Beach to the Riomar Golf Course. The project is expected to be completed by the end of April 2020.