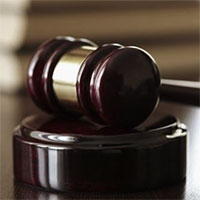 Sheriff and deputy found not liable in death of Susan Teel
STORY BY LISA ZAHNER

A federal judge in West Palm Beach has dismissed a $10 million wrongful death lawsuit brought by Vero Beach physician Dr. Dudley Teel after his wife was shot and killed by police responding to a 911 call to the Teel home.
United States District Judge Donald M. Middlebrooks ruled on Oct. 17 that neither Sheriff Deryl Loar nor Deputy Jonathan Lozada were liable for Susan Teel's death.
Deputies were called to the home by Teel's daughter, saying that her mother had attempted suicide. When Lozada arrived, court records show "he spoke briefly with Mrs. Teel's husband, Dr. Dudley Teel, while standing in the doorway of their home. Dr. Teel explained that Mrs. Teel was upstairs and was trying to kill herself with a knife" and he observed blood on Dr. Teel's clothing.
Records show Lozada walked upstairs to find Susan Teel holding a knife "pointed down over her own head" but then, according to Lozada, she walked toward the deputy holding the knife and taunting him to kill her.
By his account, Lozada took steps backward but Susan Teel kept walking toward him and so he shot her. The 106-pound, 62-year-old woman was hit four times, once in the chest, twice in the abdomen and once in the right hand according to her autopsy.
Attorney Guy Bennett Rubin sued, claiming that Lozada used "excessive force" against Teel. He argued that, though Lozada was pointing a gun at Susan Teel, he did not tell her to drop the knife, or warn her that he would use lethal force, before firing his weapon. Rubin also argued that Lozada had on his person non-lethal means to subdue Teel – pepper spray and a Taser – but did not use them.
Middlebrooks said in his ruling, "I find that Defendant Lozada's use of force was not excessive."
Rubin also argued that Loar had violated Susan Teel's constitutional rights by failing to adequately train Lozada with regard to "the rights of citizens they encounter in their duties." That count was dismissed.
With regard to the third count of wrongful death, Judge Middlebrooks concluded, "Defendant Lozada is not liable; therefore, Defendant Loar is not liable."
Rubin did not immediately respond to an email request for comment before press time as to whether or not he intends to appeal the ruling.