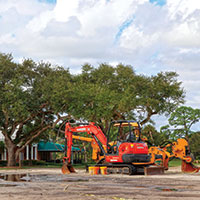 Vero Beach Country Club undertakes multimillion-dollar revitalization effort
STORY BY NICOLE RODRIGUEZ

Vero Beach Country Club, a venerable institution founded when Calvin Coolidge was president, is gearing up for a multimillion-dollar expansion to help it keep pace with changing times, according to General Manager Tim Straley.
The country club, located at 800 30th Street and established in 1924, is known for its beautiful, gently rolling golf course surrounded by attractive homes. It also offers putting and chipping ranges and has an 22,000-square-foot brick clubhouse with a variety of dining options from fine to casual.
Other than golf and dining, though, the club has not had much else to offer its 480 members.
But that is about to change.
The club has submitted a site plan to the City of Vero Beach and will be seeking building permits from the county for a 3,021-square-foot resort-style swimming pool with a beach entry, 1,500-square-foot Key West-style tiki bar with a food menu, 450-square-foot snack bar and a 4,500-square-foot fitness center.
The $3.8 million expansion on roughly two acres leaves open the possibility of further construction atop the fitness center, where a rooftop event area could be situated, Straley said.
The project, which is scheduled for completion in October 2020, is being engineered by Carter Associates with design by Donadio & Associates Architects. The golf course's 9th hole has been relocated to make room for the new construction.
"Our future is going after more of that family dynamic," Straley said. "We started doing monthly kid events that have proven to be really successful so far. It's really going to grow once we have" the new family-friendly facilities in place.
Like other clubs around the country, Vero Beach Country Club is adapting to the decline in golfers hitting the links, the club's past president Jeff Williard, an island resident, said.
The number of regular golfers across the country dropped from 30 million to 20.9 million between 2002 and 2016, according to a study by golf industry group Pellucid Corp. With the decrease, the industry also saw a lag in equipment sales and a dip in the number of rounds played annually.
"Clubs need to do more than be golf and social to attract and fulfill the needs of new members," Williard said, adding that club dues will not increase because of the expansion.
Current club president and island resident Nick Geeslin echoed Williard's sentiment, adding that the members who voted last December to approve the expansion hope it will attract a younger demographic, including non-golfers, to join the club.
"One of our biggest problems is Vero Beach is kind of a retirement community," Geeslin said, adding the average club member age is 73.
It's Geeslin's hope that, as more families move to Vero and part-time residents extend their stay year-round, the club's modernized resort-style upgrades will lure them to become long-term members and frequent the club often.
"In order to appeal to a younger audience, we're going to give Mrs. Brown something to do while Mr. Brown plays golf," Geeslin said. With the swimming pool, fitness center and tiki bar, "she'll have something to do and the kids will have something to do with her."
Club membership dues currently range from $5,200 to $8,800 annually. Initiation fees range from $5,500 to $17,500, depending on the level of membership. As at most clubs, full golf memberships are most expensive.