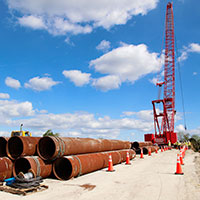 Virgin Trains USA reveals construction plans for extending service through Indian River
STORY BY GEORGE ANDREASSI
Photo: Construction along Beachline Expressway between Orlando and Cocoa.

Virgin Trains USA expects to spend more than $20 million and take more than two years to replace the 93-year-old St. Sebastian River Railroad Bridge linking Brevard and Indian River counties.
The bridge is a vital link in the company's proposed Miami to Orlando high-speed passenger rail service – one of many construction challenges Virgin Trains must deal with.
In fact, VTUSA is deploying construction teams to build 55 bridges between Orlando and West Palm Beach as part of the $2.5 billion expansion of the passenger rail line.
A massive construction crane towering over the Taylor Creek railroad bridge construction platform on the south side of Beachline Expressway/State Road 528 provided the backdrop for a Virgin Trains media briefing on Nov. 21 about how the bridges are being built.
Lessons learned on relatively shorter railroad bridges along SR 528 as tracks are extended from Cocoa to Orlando will be applied to longer bridge replacement projects at the St. Sebastian River, St. Lucie River and Crane Creek, said Michael Cegelis, VTUSA executive vice president for infrastructure.
Once the expansion is completed, VTUSA plans to run 34 passenger trains per day through Indian River County at speeds of up to 110 mph en route between Orlando International Airport and downtown Miami.
Construction on a new 1,625-foot-long railroad bridge across the St. Sebastian River could start by the end of the year and take up to 30 months, VTUSA officials said.
"What we're doing at Sebastian River is: We will remove the unused superstructure of the west bridge," Cegelis said. "The existing single track that is in use will continue."
"Then we will drive piles for the new bridge in between the bents of the existing bridge and build the superstructure right on top of the alignment for the existing bridge," Cegelis said.
"Then we will divert train traffic onto the new bridge at which point we can demolish and remove the old bridge and then build the second bridge," Cegelis said.
The start-up date for passenger service between Orlando and Miami has been pushed back from mid- to late-2022, VTUSA officials disclosed during a three-hour media tour and briefing featuring several construction sites.
"We're targeting the end of 2022 to deliver this project and begin operations," said VTUSA President and CEO Patrick Goddard.
Virgin Trains started running passenger trains between West Palm Beach and Fort Lauderdale in January 2018 and added its Miami station that May.
Virgin Trains is also negotiating with the Florida Department of Transportation and Central Florida Expressway Authority to lease land along highways for the extension of passenger service to Tampa, Goddard said. Stations could be built at Walt Disney World and other theme parks.
Virgin Trains showed off its new station at Orlando International Airport on Nov. 21 during a media tour of the 35-mile rail corridor under construction along SR 528 between the airport and Cocoa, where the new rails will connect with the historic Florida East Coast Railway tracks. The project features the construction of 30 bridges over roads and waterways.
VTUSA will replace another 25 railroad bridges on the 135-miles of FECR right-of-way between Cocoa and West Palm Beach.
"We're replacing all the bridges," Cegelis said. "We are rehabilitating the existing track. We're building an entirely new second track."
Permitting for the bridges was a "major hurdle" that took five years, Cegelis said.
The St. Sebastian River Railroad Bridge replacement project is the longest on the entire route, but otherwise not particularly challenging, Cegelis said.
A construction trestle will be erected alongside the old bridge so there's a platform for equipment, workers and materials, Cegelis said. The structure will be strong enough to support a massive crane that can lift 200 tons.
"It is the method we are using for almost all of the bridges on our alignment," Cegelis said. "We'll build a side-running trestle then put a crane on it and the construction materials are delivered from the side-running trestle to the permanent location on the bridge."
"It'll be a deck like just this and a crane like this – a Manitowoc 777 – can traverse this trestle and feed the permanent bridge site," Cegelis said while standing on the Taylor Creek trestle. "Once we're done, we take it away."
The Orlando to Miami passenger service will start without the proposed $100 million vertical lift bridge across the St. Lucie River in Stuart, which would replace a low-clearance 81-year-old single-track drawbridge.
"We will continue to operate on the existing St. Lucie Bridge when we start revenue service at the end of this Phase 2 project," Cegelis said.
The company hopes to build the new lift bridge later, diverting train traffic onto it when it's complete.
Goddard compared the Virgin Trains passenger service to Amtrak's Acela line from Washington, D.C. to Boston, as well as inter-city train lines in England, France, Italy and Spain.
Initially, Virgin Trains will run 10 sets of trains with two locomotives and five coaches that can seat up to 240 passengers, Cegelis said.
A joint dispatching operation in Jacksonville coordinates the VTUSA passenger trains and FECR freight trains, Cegelis said.
The passenger trains travel up to 79 mph between Miami and West Palm Beach, while freight trains travel up to 40 mph.  That maximum speed will rise to 110 mph from West Palm Beach to Cocoa for passenger trains and 60 mph for freight trains.
There will be no freight trains on the elevated tracks between Cocoa and Orlando International Airport, where passenger trains will travel as fast as 125 mph.