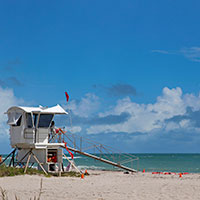 Could a lifeguard on duty have saved latest drowning victim?
STORY BY RAY MCNULTY

Might 25-year-old Bogyu Choe, the South Korean flight student who drowned near South Beach Park on Sept. 30, still be alive if lifeguards had been on duty?
"That's a very good question, but I'd like to think so," Vero Beach Lifeguard Association president Erik Toomsoo said last week. "There's no way to know for sure because, based on what I've been told, he went down quickly.
"But he definitely would've stood a chance."
For the first time this summer – from Memorial Day through Labor Day – lifeguards protected the city's beaches from 9 a.m. until 7 p.m., two hours beyond the 5 p.m. cutoff the rest of the year.
Choe drowned at about 6:45 p.m., nearly two hours after the lifeguards went off duty at nearby South Beach Park.
Toomsoo said lifeguards surely would've seen Choe and his friends, who were on the beach south of the park, and probably would've noticed that Choe wasn't comfortable entering the dangerously rough surf.
According to a Vero Beach Police report, in fact, one of Choe's "close friends" on the scene described him as a "weak swimmer" who "should not have gone out that far."
"One of the things we're pretty good at is identifying people who are potential victims, and that's not an unusual place for people to get in trouble," Toomsoo said, referring to a section of beach south of the park's volleyball nets. "That area can be rippy, and the rip currents were especially bad that week."
At the very least, Toomsoo said, the lifeguards would've kept a close watch on the men – the beach usually isn't crowded at that hour – and reacted immediately if anyone needed help.
The police report, citing witness accounts, states that Choe and another man, Justin Donnelly of Vero Beach, were swimming in water deep enough that their feet couldn't touch bottom.
When Choe began to struggle, splashing desperately to stay afloat and gasping for air, he tried to reach for Donnelly. Instead, he went under water and remained submerged for approximately five minutes before resurfacing, the report states.
Donnelly "attempted to drag him to the shore, but he struggled to do so," the report states, adding that it took four others in the group – they were on the beach – to get Choe out of the water.
Choe was "unconscious and not breathing" when he was pulled ashore, the report states, and efforts to revive him failed. He was taken to Cleveland Clinic Indian River Hospital, where he was pronounced dead less than an hour after he entered the water.
"It was so tragic and so avoidable," Toomsoo said, "but it was one of those perfect-storm scenarios: rough conditions, a hesitant swimmer and no lifeguards present."
City Councilwoman Laura Moss, though, has asked Vero Beach Recreation Director Rob Slezak to explore the need for – and possibility of – keeping lifeguards on duty until 7 p.m. beyond Labor Day and, perhaps, into October.
Nightfall already is coming earlier. Sunday's sunset was at 6:55 p.m., and Eastern Standard Time starts on Nov. 3.
"We've got to examine the utilization of our beaches during those hours in those months, and then look at the costs," Slezak said, adding that his department raised funds to cover the $25,000 cost of extending the lifeguard-protection hours this year.
"We also need to see if we have the staffing necessary to do it," he added. "We're working on it and, when we have all the numbers, we'll send them to the City Council."