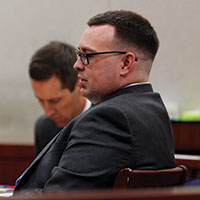 Defense disputing everything in trial of Michael Jones for strangulation murder of girlfriend
STORY BY LISA ZAHNER

The defense will make no concessions. Everything the prosecution says will be in dispute.
Assistant Public Defender Dorothy Naumann made that clear right from the opening Monday of the first-degree murder trial of Michael David Jones, 32, who is accused of the premeditated manual strangulation of his girlfriend Diana Duve.
"The issue of the cause of death is in dispute in this case," Naumann said, announcing that the defense will be bringing in a retired coroner who has a different theory about how Duve died in June 2014.
For the prosecution's opening salvo, Assistant State Attorney Brian Workman told jurors in detail about Duve's death. Workman revealed the brutality of the alleged crime, that the young nurse's body and face were bruised, her eye swollen and hemorrhaging and bones in her neck broken and fractured from the force with which she was strangled.
Workman explained that Jones would have had to choke Duve for 20 seconds or so while she fought back until losing consciousness, and then strangle her for another four minutes until she died.
The prosecution then described how police say Jones almost immediately began to cover up the crime:  loading Duve's body into the trunk of her own car; driving Duve's black Nissan to Brevard County where he bought a burner phone, and parked the car in a Melbourne Publix parking lot; and finally taking a cab back to Vero and holing up at the Hampton Inn, where he was arrested.
Then Workman went back to the matter of the strangulation. This wasn't the first time, Workman told the jury.
That's where the state launched its case on Monday, with four witnesses testifying about a night in April 2014, less than two months before Duve's death, when Duve claimed Jones not only threatened to kill her but tried to kill her in the bedroom of his Carolina Trace townhome.
Testifying were the neighbor who heard Jones yelling loudly for about an hour and called police, followed by the officer who responded to the Jones residence and wrote a report that Duve asked him to wait while she gathered her things quickly and left.
Two friends then testified that Duve showed up hysterical at The Stamp Bar downtown where they worked, and when she finally calmed down, told them there had been an argument and Jones had choked her.
One of the friends took photos showing what appeared to be finger marks on Duve's neck – images which were shown in court to jurors on a 5-foot-wide screen.
To each of these witnesses, Naumann pointed out that they all had knowledge Duve got back together with Jones – even after the allegations that he'd choked her and threatened to kill her.
Monday afternoon friends and colleagues of Jones at PNC Wealth Management, where he worked, testified that the University of Georgia graduate with the two law degrees "was a rainmaker" able to juggle a busy schedule of client meetings plus social networking that helped bring wealthy clients in the door.
But they also said Jones and Duve had a rocky relationship. They described Jones as distraught over breaking up with Duve – sad, anxious, drinking more than usual – and as Nicholas Mazza recalled, told friends Duve had left him and planned to move out west, to Las Vegas, with a new beau.
Events of the last few days before Duve died were recounted by numerous friends, leading up to the final time they saw Duve alive, drinking at Cobalt and then at The Kilted Mermaid before meeting up with Jones at What-A-Tavern at approximately 11 p.m. on Thursday, June 19, 2014.
Bartender Kristi Bowser testified to seeing Jones and Duve talking quietly, playing songs on the jukebox, and leaving together just after 1 a.m. Their tab totaled $47 for vodka cocktails and Vegas Bomb shots, plus Jones tacked on a $20 tip and signed the credit card receipt.
Two things Bowser recalled from the encounter were that Duve told a man who had been bothering her that "Michael is my boyfriend" and Jones, as the two departed, said "he had her, he was driving."  Then they walked out the front door together.
The next chapter of the story, as presented by prosecutors, picked up when Duve's mother Lena Andrews awoke Friday morning, June 20, around 7 a.m. to a 1:45 a.m. text message from Duve, in Russian as the mother and daughter customarily communicated, saying Duve would not be returning home that night.
Andrews could not reach her daughter despite repeated calls and texts. She did reach Jones once, and he assured her all was OK, but said he was out and Duve was back at his place sleeping.
As the afternoon wore on, Andrews got more and more worried – to be out of touch was not like her only child Diana, she said – until finally she went to the Vero Beach Police Department around 8 p.m.
That is when Cpl. Bradley Kmetz came into the picture.  He was detective on call and took the lead on what started as a missing persons investigation.
Kmetz answered questions asked by Chief Assistant State Attorney Tom Bakkedahl about how friends and associates were interviewed, and how warrants were obtained to track the cellphone activity and cell site locations of both Duve's and Jones' mobile phones.
Bakkedahl said Kmetz will be recalled numerous times to testify about how the case was investigated over a frantic weekend spent searching for Duve until her body was found.
There's much more of the story of Duve's tragic death to unfold as the prosecution rolls out evidence and as the defense posed pointed questions. The trial is expected to last until the middle of next week.
Boxes of depositions, reports, medical records, photographs, video recordings and more than 6,000 pages of discovery documents – or at least the most relevant of them – await the jury's consideration in the coming days.
As Assistant State Attorney Workman directly addressed the seven men and eight women serving as jurors and alternates in the prosecution's opening arguments, "Diana is not going to testify. The evidence will need to speak for her. Listen with your minds and listen with your hearts."