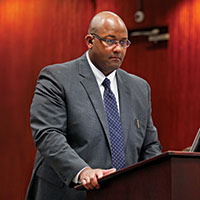 Jones' murder defense: Hard to understand?
STORY BY LISA ZAHNER
Photo: Assistant Public Defender Stanley Glenn directs questions to potential jury members during the selection process Oct. 3, 2019.

Over the past five years, readers following the story of murdered 26-year-old Moorings resident Diana Duve and the protracted criminal proceedings against accused killer and former PNC Wealth Management advisor Michael David Jones have been swamped with information.
What's out there includes graphic details, crime scene photos and now, from one media outlet, 14 Twitter updates per day on the rather boring minutiae of the past week and a half of jury selection.
But despite all that reporting, if you want to know what it's really like to sit in the courtroom where Jones is scheduled to be tried for first-degree murder this month, you need to know one thing that no one mentions.
Jones' lead defense attorney is very hard to understand.
It's probably not politically correct to write about this, but it's a rather unique – and important – element of this high-stakes capital murder trial.
Assistant Public Defender Stanley Glenn, 44, was born partially deaf in both ears.
His father, a Negro League baseball pitcher, related in a book he wrote in 2006 how his son as a boy struggled in public school, but did great in a Catholic school with small classes.  He subsequently earned an undergraduate degree from Virginia Wesleyan College in 1997, a Juris Doctorate degree from Catholic University in 2000, according to Martindale-Hubbell, and was admitted to the Florida Bar in 2001.
In the courtroom, Glenn is a skilled lawyer who comes off as well-prepared, highly intelligent, flexible, hardworking and genuinely dedicated to providing the best possible defense.  He treats everyone with respect and empathy. A blog which deals with issues related to the hearing impaired said judges "find him remarkable."
But while Glenn speaks as best he can despite his challenges, it requires the listener to devote much effort to hear and understand him.
The first time we covered a hearing in the Jones case where Glenn argued a motion for the defense, and had a lot of trouble understanding what was being said, we immediately called Public Defender Diamond Litty to ask her about Glenn. Litty told Vero Beach 32963 that Glenn is one of her best attorneys and that she has utmost confidence in his ability to represent clients.
But during the first week of weeding through a pool of more than 200 prospects, trying to pick a 12-member jury to decide Jones' fate, numerous people had a tough time understanding Glenn.
During just one hour of the "voir dire" or jury selection process last week, three jurors asked Jones' attorney five times to repeat what he had said. Over the next few hours, that number of requests doubled.
The court reporter assigned to take down the verbatim account of the case had also complained, as had one of the other journalists covering the case. Glenn acknowledged in court that he needs to remember to speak up and project his voice so people can hear him. At one point, a microphone was installed at the lectern where Glenn was speaking, but it was later removed.
One of Jones' other lawyers, Assistant Public Defender Dorothy Naumann, even asked to excuse one woman from jury service because she had asked Glenn to repeat himself too many times. Naumann found out via questioning that the woman herself was hard of hearing. The combo of hers and Glenn's hearing impairment was too high a hurdle to surmount.
She was released. But the fact that Naumann raised the challenge signals that the defense is very much aware that some people do have significant trouble understanding Glenn.
Jury selection, for the potential jurors, provides the best-case scenario for understanding Glenn. Glenn and the jury pool were only a few feet away from each other. He addressed each juror directly and individually, focusing on just one person at a time, checking in frequently by asking them, "You with me?"
Members of the jury pool were close enough to easily look Glenn in the face and match his expressions and lip movements to his words.
During the actual trial, things will be much different.
Glenn will be mobile, facing various directions, questioning witnesses, talking to the prosecutors or to the judge, and jurors will not have the opportunity to stop the proceedings and ask for things to be repeated.
When no one is asking "You with me?" will the jurors put in the hard work to understand every word Glenn says? Or over the course of an expected four-week trial, will jurors mentally check out?
The other problem is that Glenn can hear only a fraction of what anyone says, even with his state-of-the-art digital hearing aids, according to the hear-it.org blog article.
Glenn works with the help of technical accommodations, including a separate court reporter who sits as close as possible to Glenn whenever he speaks – usually less than a yard away – and who types every utterance in the court record into a computer that displays text on a screen for Glenn to read in case he does not pick up on what's said via a combination of hearing aids and careful lip reading.
Compounding the challenge is that Glenn's adversary in this case is arguably one of the most effective communicators in State Attorney Bruce Colton's stable of criminal prosecutors.
Deputy Assistant State Attorney Tom Bakkedahl possesses a huge personality and a booming voice to match. So far in the proceedings, Bakkedahl has taken command of the courtroom. He can get loud, bombastic even, and he knows how to drive a point home – with colorful language or humor, if necessary.
When sensitive matters call for a softer touch, Assistant State Attorney Brian Workman is more than adept at playing "good cop" to Bakkedahl. The two prosecutors, so far, make a formidable team.
Despite the fact that Jones enjoys representation by a team of at least three taxpayer-funded attorneys – a fourth has been present in the courtroom at the defense desk, but has not spoken a word on the record – Glenn is expected to do much of the talking during the trial.
Assistant Public Defender Naumann, who has been on the Jones case from the beginning in June 2014, is more than capable of arguing forcefully on Jones' behalf, but at least during jury selection, she has seemed to lack enthusiasm for the case. Assistant Public Defender Shane Manship, Jones' third lawyer, openly admitted to a small group of the jury pool last week that he probably chose the wrong profession because he does not like speaking in public.
So the impassioned and compassionate Glenn, challenges and all, may be Jones' best hope of mounting a rigorous defense and avoiding the death penalty if convicted.
Interestingly, when Jones attempted to fire his entire legal team back in August, he did not list Glenn's hearing impairment or his communication challenges as one of the reasons why he wanted new lawyers.