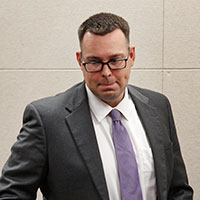 Jones' sentencing to take place amid new concern over Florida death penalty
STORY BY LISA ZAHNER
Photo: Michael Jones enters the court room to wait for the verdict to be delivered following his trial after being charged with 1st degree premeditated murder from the 2014 killing of Diana Duve.

Convicted killer Michael David Jones' sentencing next month will take place against a backdrop of mounting legal, political and religious controversy over Florida's death penalty.
Florida is set to execute its 100th death row inmate since capital punishment was reinstated in 1976. The execution may be delayed until after Christmas, but it could go on as scheduled Nov. 7 should Florida successfully appeal a temporary stay ordered by a federal court.
Executions are always a media circus, with protests and candlelight vigils outside the Starke, Florida penitentiary gates, plus passionate pleas to the governor for clemency. But this upcoming execution is newsworthy for a couple reasons.
Besides the number 100 being a morbid milestone, James Dailey's guilt is in question since another man formally confessed in 2017 to the crime Dailey was convicted of.
Dailey, 64, has been on death row for 32 years for the 1985 murder of a 14-year-old Pinellas County girl.
As the Dailey case indicates, it takes decades of waiting in prison to be executed in Florida, so even if 36-year-old Jones is sentenced to death, it's likely he would be in his 60s or even his 70s when executed.
Jurors who unanimously found Jones guilty of first-degree murder on Oct. 22 will return on Nov. 13 to decide whether Jones will join the more than 300 men and women on Florida's death row, or serve a life sentence without parole. In the meantime, jurors are under strict orders from Judge Dan Vaughn not to discuss, read about or research anything related to the case.
The Jones jurors could have taken a much less arduous path.
First-degree murder is the only charge eligible for Florida's death penalty, which under recent changes to the law can be imposed only if all 12 jurors vote for death after a special sentencing proceeding. Previously, jurors would only bear the job of convicting a killer, and then a judge would hand down the sentence.
Had they returned a second-degree murder conviction last week, jurors would have been released from service, tossing the sentencing of Jones back in Vaughn's lap. Instead, knowing they would have to come back for the sentencing, jurors returned a verdict that will force them to endure another week of what prosecutor Tom Bakkedahl repeatedly referred to as "a job nobody wants."
Six days before the jury is scheduled to return to their assigned seats in Courtroom Four on the third floor of the Indian River County Courthouse, the Florida Department of Corrections had been set to make Dailey its 100th execution.
Dailey's death warrant is the third one signed by Gov. Ron DeSantis since taking office in January. DeSantis, a Roman Catholic, has weathered a political beating from pro-life groups, from an innocence project representing Florida's 29 exonerated former death row inmates, and even from Florida's first lady.
Statewide media reported in August that Casey DeSantis cancelled her appearance at a "Women for Trump" rally in Tampa which coincided with the execution of Florida's 99th death row inmate, serial killer Gary Ray Bowles. The Orlando Sentinel quoted a statement from Casey DeSantis' office saying, "an execution day is a somber day in Florida and neither the Governor nor the First Lady will attend public events that day."
Florida's eight Catholic bishops petitioned DeSantis on Oct. 21, "While we urge you to stop every execution and end the use of the death penalty in Florida, this case of a veteran with evidence of innocence is especially alarming."
Last week a federal court granted a temporary stay of Dailey's execution until at least Dec. 30 while his case is considered by the Florida Commission on Offender Review. Dailey, a U.S. Air Force veteran who served in Vietnam, has new federal lawyers from the Capital Habeas Unit attempting to establish his innocence and save his life.
The state can appeal or oppose the federal decision, or DeSantis could let the review play out. So uncertainty swirls around the issue. Headlines are asking whether Dailey will become the 100th death row inmate to die or the 30th death row inmate to be exonerated.
"Alternative sentences, such as life without parole, are severe punishments through which society can be kept safe," the bishops wrote DeSantis. "These alternatives do not degrade us by ending yet another life – perpetuating, rather than ending, a cycle of violence."
Calling the governor's power to grant clemency "your difficult position," the bishops have scheduled 32 prayer vigils around Florida, using the 100th execution as a rallying cry. "We are particularly concerned that, if carried out, this will be Florida's 100th execution since the reinstatement of the death penalty in 1976. Our state is a national outlier in our high numbers of death sentences, death row population, and executions. This use of the death penalty wounds our society by allowing a devaluation and coarseness of life in our community."
During the three-week Jones jury selection process, numerous people in the 200-plus person jury pool commented that they were against the death penalty because they felt the prospect of life in prison was worse than execution. Other reasons given for opposing the death penalty were that it has not been shown to be an effective deterrent and that the exhaustive appeals process afforded a man or woman condemned to die is an undue burden on Florida's taxpayers.
Outside the courtroom, the Florida Conference of Catholic Bishops has created a firestorm for the governor, opposing the death penalty on religious grounds. Others feel that as an advanced society, our country and state should have evolved beyond "an eye for an eye" mentality. Still others oppose the death penalty because they believe the possibility of executing an innocent person is too great risk.
All of this will comprise the backdrop for the Jones jurors in less than two weeks. In the meantime, prosecutors have asked for Jones to undergo two more routine mental health evaluations, which they say is the reason for the three-week gap between verdict and sentencing.
On Monday prosecutors and defense attorneys were arguing about the parameters of the questions Fort Lauderdale-based forensic psychologist Dr. Michael Brannon could ask Jones. Judge Vaughn was still weighing what the doctor could and could not ask at press time.
Florida law provides tools for jurors to use to systematically consider the results of Jones' mental health examinations and decide whether he and the crime committed warrant a death sentence. Three steps are required before the jury can decide if Jones lives or dies.
The first step is for prosecutors to prove one or more "aggravators" exist. If no proof of aggravators is found, the process stops and Jones would be sentenced to life in prison.
Florida Statute 921.141 outlines 16 aggravating factors, ranging from prior felony convictions to the cruelty of the crime, multiple victims, a child victim, a vulnerable adult victim due to advanced age, disability, or a crime committed for financial gain, to evade capture or in the commission of another felony. Other aggravators involve the killing of a public official or law enforcement officer, or while violating a protection order. If the defendant was a gang member or designated sexual predator that would also be an aggravator.
The jury must decide unanimously as a group that the state has proven one or more aggravators exist. If at least one proven aggravator is present, jurors move on to the next phase.
The second task, which falls to defense attorneys, is to present evidence, including expert medical testimony, that "mitigating factors" exist that might paint Jones in a more sympathetic light. A few of the mitigators listed in the state statute are a lack of significant criminal history, extreme duress, emotional disturbance or impaired mental capacity at the time of the crime, or "the existence of any other factors in the defendant's background that would mitigate against the imposition of the death penalty."
"Anything can be a mitigator and you must consider it," Bakkedahl told jurors repeatedly during jury selection, offering up examples ranging from reasonable to downright silly to emphasize his point. "What weight, if any, you give to the mitigator after you consider it is up to you."
Defense attorneys were not permitted to reveal which mitigators would be presented in the Jones case, but poverty, childhood abuse, brain damage, drug addiction and the ability "to do well or to behave in prison" were mentioned over and over again by Assistant Public Defender Stanley Glenn and his team, so those are the most likely mitigators to be argued.
Jones, in court discovery documents, claims to have been raised in rural Georgia in poverty. But poverty is a relative term and jurors will bring their own experiences and backgrounds to bear.
The state will likely argue that Jones did not grow up in the inner city in a public housing project riddled with gang violence and drugs, that he graduated from college and earned two law degrees, and that when arrested he was earning a six-figure income.  How much a certain level of rural poverty damaged Jones, or pushed him to commit murder, will be up to the jury.
The defense is expected to present evidence or testimony that Jones' father was mean and abused him, that Jones had a bad motocross wreck resulting in a back injury and got hooked on pain meds, and finally that Jones has some sort of brain injury that affects his impulse control and cognitive function.
The jury will need to weigh these things against everything else they learned about Jones during the trial, including how co-workers raved that Jones was "brilliant," that he had lots of friends and that he was "a rainmaker" for his employer, PNC Wealth Management on Ocean Drive.
The third and final step of the sentencing process requires jurors to compare any aggravators to established mitigators and decide which carries greater weight.
If even one juror decides that life in prison fits Jones' crime of killing 26-year-old Diana Duve better than the death penalty, the sentence handed down will be life in prison. Recent changes in Florida law require the jury to vote unanimously to impose a death sentence.
Two days before his sentencing hearings are scheduled begin, Jones will mark his 37th birthday on Nov. 11. It will be his sixth birthday behind bars since his arrest on June 22, 2014.
Jones was initially arrested for violating probation when he fled the county after Duve's death. That probation had been imposed after he took a plea deal on an aggravated stalking charge in Broward County.
Three weeks after Duve's body was found, prosecutors charged him with second-degree murder – the most severe crime that can be charged under Florida law without a grand jury indictment. Then on Aug. 26, 2014, the grand jury convened and indicted Jones on first-degree murder, paving the way for the State of Florida to pursue the death penalty.
Nick Samuel contributed to this story.