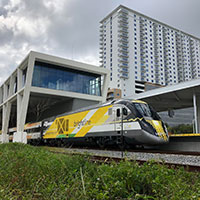 Virgin Trains: More counties want aging bridges replaced
STORY BY GEORGE ANDREASSI

Virgin Trains USA's proposal to replace the historic St. Lucie River Railroad Bridge in Martin County with a $100 million high-rise lift bridge has prompted requests for new railroad bridges in St. Lucie and Broward counties.
St. Lucie County Commissioner Cathy Townsend Friday asked Virgin Trains to replace the outdated Taylor Creek Railroad Bridge, which currently is set for rehabilitation.
Broward County officials similarly called upon Virgin Trains and Florida East Coast Railway to replace the New River Railroad Bridge to allow more commuter, passenger and freight trains through Fort Lauderdale.
Virgin Trains has long planned to replace the 93-year-old St. Sebastian River Railroad Bridge, which links Indian River and Brevard counties as part of creating the infrastructure of its planned passenger rail service between Miami and Orlando.
When service starts – in summer 2022 if Virgin Trains stays on schedule – 34 passenger trains will zip through Indian River County each day at speeds up to 110 mph. Currently, about 20 freight trains per day travel 40-to-60 mph on the FECR tracks.
In the long term, Virgin Group envisions international tourists flying into Florida airports on Virgin Airlines and riding Virgin Trains to Virgin Hotels or Virgin Voyages cruise ships.
Virgin Trains Vice President Rusty Roberts briefed dozens of elected officials about the passenger rail project and Virgin Group's grand plans Friday during the Treasure Coast and South Florida regional planning councils' annual joint meeting.
Roberts disclosed new details about the high-rise lift bridge Virgin Trains wants to build across the St. Lucie River that would replace an 81-year-old drawbridge.
"We would double-track it," Roberts said of the proposed lift bridge. "Our engineers believe we can design a new bridge so you have 18 feet of clearance under that bridge even if there's a railroad operation underway."
If left in place, the existing steel bridge would be a chokepoint for passenger and freight train traffic because it would be the only section of the route with a single set of railroad tracks.
The corroding 1,270-foot-long bridge would likely also cause boat traffic to back up in the St. Lucie River/Okeechobee Waterway because it has a clearance of just 6.6-feet when trains are rolling across, and more trains will use it when the passenger service begins.
The 50-foot-wide navigation channel under the new bridge would be widened to 180 feet so two boats could pass at the same time, Roberts said.
Two examples of lift bridges are the Galveston Causeway Railroad Bridge in Texas and Burlington Northern Railroad Bridge in Portland, Oregon, according to Roberts.
"There are many ways to build a vertical lift bridge," Roberts said. "We're working on a financing package. I'm not saying this is a done deal. This is a feasibility that we're studying. We hope we can make it happen."
Virgin Trains asked Martin County and Stuart commissioners this month to endorse requests for tens of millions of dollars in federal grants to help pay for the proposed two-track lift bridge.
Townsend invited Roberts to St. Lucie County to talk about replacing the 210-foot-long Taylor Creek Railroad Bridge just east of Old Dixie Highway.
"That would really help us in St. Lucie County if you would consider a vertical bridge on the Taylor Creek," Townsend said.
Roberts didn't respond to Townsend's comment during the meeting.
Earlier he described plans to rehabilitate the 585-foot-long Loxahatchee River Railroad Bridge in Jupiter.
Virgin Trains is also considering establishing local stations in Cocoa, Fort Pierce and Stuart, Roberts said. Other new stations are in the planning stage in Boca Raton, Aventura and Port Miami.
The company hopes a mass transit terminal at Orlando International Airport will eventually serve as a hub for Virgin Trains passenger rail service extending to Tampa and Jacksonville, records show. Spurs may also be built from the passenger rail network to major seaports and airports.
"We're looking at running special port trains at certain times of the day because 6 million people are going to Port Miami and we already noticed a lot of people riding our train into Miami Central [station] with luggage and going to the port to get on a cruise ship," Roberts said. "With Virgin Voyages, that's going to be even more important to us in terms of cross-pollination in terms of sales.
"We're very excited to be part of the Virgin Group ecosystem," Roberts said. "That's very important to us because the Virgin Group is a large ecosystem with Virgin Atlantic Airways, Virgin Hotels, Virgin Tours, Virgin Hospitality, and soon to be Virgin Voyages in Port Miami."
Operating under the Brightline brand, Virgin Trains started service between Miami and West Palm Beach in 2018. The locomotives and passenger cars are to get Virgin Trains branding wrappers next year.
Along with infrastructure challenges, the company faces heightened safety concerns after Virgin Trains killed 22 people this year as of Sept. 30, according to federal records.
State Sen. Debbie Mayfield (R-Melbourne) on Friday filed legislation to strengthen regulations for higher-speed passenger rail like Virgin Trains and increase Florida Department of Transportation oversight.
Indian River County commissioners have filed legal challenges against the $3 billion project in state and federal courts because of concerns about the safety risks and costs to local governments to maintain railroad crossings.
Virgin Trains is a big part of Florida's efforts to develop mass transit systems as the state's highways grow increasingly congested, several state and municipal officials said Friday. About 1,000 people per day move to the state.
"This is the most significant mobility improvement in the state of Florida since the interstate system was built," Roberts said. "The potential for success as we expand to Orlando is very promising and we're very excited about that expansion."