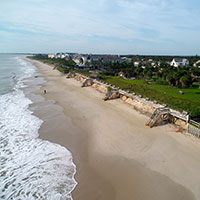 Dorian causes $7 million in beach erosion here
STORY BY NICOLE RODRIGUEZ
Photo: Erosion at Humiston Park Boardwalk.

Although Florida's east coast was spared a direct hit from Hurricane Dorian, waves driven by the powerful storm's outer bands pounded Indian River County beaches, causing significant erosion.
Vero and county officials report 3 to 10 feet of dunes and beach were washed away on segments of shoreline – likely costing more than $7 million to replenish – as Dorian skimmed the state on Sept. 3 as a Category 2 storm after weakening while it hovered over the Bahamas.
The most severe erosion occurred in the city of Vero Beach under the Conn Beach boardwalk. Sand beneath the southernmost 250 feet of the boardwalk washed away, hollowing out the dune right up to the edge of pavement where cars park along Ocean Drive and exposing the boardwalk's foundation, prompting city officials to close off that section of the walkway, City Manager Monte Falls said.
Humiston Park's boardwalk was undermined, too, but not as severely, as storm waves washed sand out from underneath it.
Neither boardwalk suffered significant structural damage, but the city is rushing to obtain state permits to begin an emergency project to replenish each boardwalk with sand to protect them from other storms that may occur this fall. The two areas need a combined 1,000 cubic yards of sand at an estimated cost of $25,000, Falls said, adding the city might apply for FEMA reimbursement.
"If we were to have another tropical event or another high tide event [before replacing the sand] we could lose some infrastructure there and it would really increase the amount of money required to repair it," Falls said of Conn Beach boardwalk.
Although the erosion from Dorian was severe under the boardwalks, it paled in comparison to damage done by Hurricane Matthew, which brushed the coast in 2016, and hurricanes Frances and Jeanne, which wreaked havoc on the Treasure Coast with back-to-back direct hits in 2004, Falls said.
"The erosion there was critical," Falls said of Frances and Jeanne. "We lost Ocean Drive all the way to the center line of the road."
Beaches in the county's jurisdiction also suffered significant erosion, forcing officials to tweak beach renourishment plans at an added cost of roughly $7.5 million.
The county has plans for a $4.8-million project slated to begin in November to infuse 155,000 cubic yards of sand from Tracking Station Park to Castaway Cove – a stretch known as Sector 5. That project will likely remain on track, County Administrator Jason Brown said, but it will need an additional 50,000 cubic yards of sand, adding $1.25 million to the cost for a total of more than $6 million.
Two more projects will require an extra 250,000 cubic yards of sand at an added cost of $6.25 million, boosting the combined cost of those projects to $25.75 million, Brown said.
The projects, still slated to begin in November 2020, were originally engineered to place 400,000 cubic yards of sand along a 6.6-mile stretch of shoreline between the north island community of Seaview and Turtle Trail beach park near the Carlton condominium, an area the county calls Sector 3. The second project was permitted to infuse an additional 250,000 yards of sand on south beach in what is called Sector 7, the area which stretches for 2.2 miles from Seagrove to the Moorings.
The state and federal government committed to paying for a portion of all three projects, but Dorian has prompted the county to ask for more funding, Brown said.
"We are working through the state to try to request FEMA reimbursement for the beach erosion," Brown said.
Despite the eroded shorelines, local officials are thankful the storm skirted the coast, causing no infrastructure damage.
"Like any tropical system that we have forecast to come to our area, we take them all very very seriously," Falls said. "We prepare as if they are going to impact here and we braced for the impact, but we are so thankful the storm stayed offshore and we got only minimal tropical storm force winds."