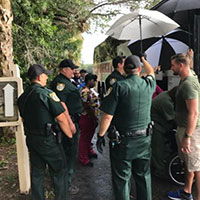 Many local nursing and assisted living facilities also evacuated
STORY BY MICHELLE GENZ

Like Sebastian River Medical Center, many Vero nursing homes and assisted living facilities evacuated their residents as Hurricane Dorian approached – but others stayed put, relying on back-up generators and impact resistant windows.
Florida Baptist Retirement Center took the county's evacuation order for people east of U.S. 1 literally.  "We go by emergency services," said a spokesperson. "They required everyone east of U.S. 1 to evacuate. It was mandatory."
Consulate of Vero Beach, part of a chain of 82 centers, followed its corporate policy to evacuate if the local authorities say so.
"It's always a last resort," said Jennifer Trapp, vice-president of corporate communications. "Vero was a mandatory evacuation. It was not a 'do we stay or do we go.'"
Trapp said the company enacted its emergency preparedness plan 48 hours before Gov. Ron DeSantis declared a state of emergency Aug. 28. That included alerting transportation companies already under contract, and identifying other Consulate properties that could house the Vero residents. Extra linen and food had to be ordered at the sheltering facility, as well as medications for evacuees.
With the evacuation getting underway not only in the dead of night but in the rain, Trapp said Indian River County sheriff's deputies arrived with umbrellas to help residents board the buses. "That was really awesome," said Trapp.
Brookdale, an assisted living and memory care facility near McKee Botanical Garden, also evacuated, as did Harbor Chase, an assisted living facility on Indian River Boulevard, along with its nearby sister facility for independent living, Regency Park.
Harbor Chase and Regency Park are owned by the Vero-based national chain Harbor Retirement Associates. Both facilities routinely clear out ahead of storms, and keep hotel reservations at the ready as well as a lease contract with a luxury bus company. On Sunday, the independent living residents headed for a hotel, while the assisted living and memory care patients settled into spare apartments in one of the company's newest properties in Orlando.
"The residents are informed far in advance to mentally and physically prepare," said the company's vice president of sales and marketing, David Dodson. "We try to keep people not just calm but comfortable and entertained."
When the Vero evacuees along with nursing staff arrived in Orlando – many with pets in tow – they were greeted with "fine wines and spirits," Dodson said, along with a theme park entertainer. "I had residents come up to me and say, 'What can we do to make our Vero friends more comfortable?' I said come over and talk to them."
Before long, Dodson said, the happy hour was hopping. "Toes were tapping and they were singing," said Dodson.
The group was back in Vero Wednesday.
At Somerset House, the assisted living component of the upscale Oak Harbor senior community, 26 residents were evacuated to a Marriott hotel in Tampa. The hotel let the Vero guests play bingo in the lobby and Somerset's chef was allowed to fix meals in the hotel kitchen.
Another 24 residents from Oak Harbor chose to leave as well. They were evacuated to a different Marriott.
At the same time, other Vero nursing homes and assisted living facilities – including Palm Garden, Sea Breeze and Solaris – bucked the mandatory evacuation order.
For Solaris, an assisted living facility on Indian River Boulevard, the decision on whether to evacuate came down to the wire. U-hauls, buses and a 20-member crew were on hand to move residents and staff Monday morning when the evacuation order went into effect.
"I will tell you we were prepared to evacuate just because it was mandatory," said Kimberly Sharick, director of nursing. "We had planned on evacuating that morning and then everything started clearing and we said, well, it's not as bad as we thought."
With plenty of fuel for the generator on premises, the plan to leave was called off. "The lights never even flickered," Sharick said. "It was the best anyone could ask for."
Another assisted living facility, Pelican Landing, just down the road from Sebastian River Medical Center, decided to stay, even in light of the nearby hospital's decision to evacuate its patients.
For nursing home residents, particularly those with severe dementia, evacuation has been found to contribute significantly to increased rates of hospitalization, morbidity and mortality, according to a published study, while the effects of the storm they experienced while sheltering in place had no such negative outcomes on health.
At the same time, the fear of another tragedy like the one after Hurricane Irma, when 12 Florida nursing home residents died of overheating in a power outage, had health department workers frantically checking  backup generators ahead of Dorian.
According to Florida's Agency for Health Care Administration, all 21 of the county's assisted living facilities have fixed generators in place, required by law after the Irma incident. Only three of the county's six nursing homes show a fixed generator on site; the other three had temporary generators or had generators the state had not yet approved.