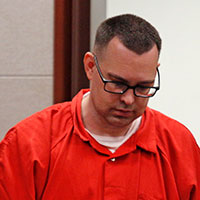 Social media may be factor in choice of jurors for Jones
STORY BY LISA ZAHNER
Photo: Michael David Jones in court.

While accused killer Michael David Jones waits for his first-degree murder trial to begin next month for the 2014 death of 26-year-old Moorings resident and Sebastian River Medical Center nurse Diana Duve, attorneys now focus on seating an impartial jury.
One-hundred potential jurors were summoned to the Indian River County Courthouse on Tuesday, then another hundred on Wednesday and a hundred more on Thursday.
Waiting at the courthouse for those citizens will be a detailed, three-page questionnaire that the defense and prosecution will use to start learning about the potential jurors as they begin the process of picking a panel of 12 who will judge the innocence or guilt of Jones.
The first page of the questionnaire covers the basics: Name, age, etc. It's not until midway through the second page that potential jurors find out the defendant is Michael Jones and that he's charged with first-degree murder in the death of Diana Duve. That section's questions are designed to determine the potential juror's knowledge about the details of the case and those involved in it.
Those questions continue to the third page, which concludes with a survey of sorts about the death penalty asking when, if ever, the person responding feels the death penalty is an appropriate punishment.
Along with completing the questionnaire, people in the jury pool will get a set of stern instructions from Judge Dan Vaughn. During the interim between leaving the courtroom this week and returning on Tuesday to be questioned by attorneys in a process called voir dire, potential jurors are forbidden from researching the case, talking to anyone about the case, reading, watching or listening to local news.
They will also be prohibited from viewing social media where the case might be mentioned, or where they might see a shared article or comment or tweet about the case.
"Even though you have not been selected as a juror, there are some strict rules you must follow about using your cell phones, electronic devices and computers," the jury instructions state.
No searches. No research. No media accounts of the case.
In the age of constant digital communication, those half-dozen days might seem like an eternity, but that's only the beginning for those who end up empaneled to serve for as long as four weeks.
Not only will defendant Jones get to review the forms to identify people he knows personally or professionally, but it's commonplace for a crack defense team to look at potential jurors' social media accounts and Internet presence to ferret out anything that might make them biased toward or against their client because Jones' life is literally on the line.
Assistant State Attorney Ryan Butler, a capital crimes specialist who is not on the team prosecuting the Jones case, said the State Attorney's staff checks official lists to see if the potential jurors have ever been a "client" of the state – either as a defendant or a victim – but "beyond that, checking the social media of potential jurors is not something we do. At least it's not something I do."
But Butler speculated that in an Instagram world, "I wouldn't be surprised if private defense attorneys do that; that's the kind of thing they are paid to do." Jones has a team of three attorneys from the Public Defender's office.
Since the deceased victim Duve cannot advocate for herself in the jury selection process, her mother and stepfather would be shown the names of potential jurors to identify anyone who went to high school with Duve, worked with her or otherwise knew her.
One thing potential jurors will be spared is seeing crime scene and autopsy photographs as part of the selection process. Judge Vaughn on Monday denied the defense's motion to show graphic photographs to weed out potential jurors who might be deeply affected by those photos.
One of the photos Assistant Public Defender Dorothy Naumann wanted to show was a photo of Duve the way police found her in a Publix parking lot in Melbourne – deceased and nearly naked in the trunk of her own car.
Vaughn also ruled that a 2014 photo lineup by which a cab driver positively identified Jones as the man he picked up at a Melbourne Wendy's and drove to Vero Beach will be admissible as evidence. The cabbie's testimony, along with cellphone records and a security video showing Jones outside the Wendy's, is key to placing Jones just yards from where Duve's body was found.
That cab driver is one of more than 100 people expected to appear on the witness list, including six medical experts who all might testify that Jones suffers from brain damage. Potential jurors will get a chance to view the list of names so they can alert attorneys if they know someone who might be testifying.
Jurors with the potential of being excused "for cause" due to a range of factors will be individually questioned in open court, but separate from the whole jury pool, next week.