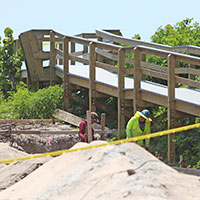 Work again proceeding on Blue at 8050 Ocean condos
STORY BY LISA ZAHNER AND NICK SAMUEL

The investigation into the origins of skeletal remains found on a construction site in Indian River Shores in June continues, with archaeologists testing a theory about the bones being Native American.
But developer Yane Zana said he's proceeding with his luxury condo project on schedule and plans to "go vertical" with buildings sometime in October.
The side walls and entrance to the development have been constructed, and crews will begin installing underground utilities next week. Auger pilings will be sunk soon. Zana said he has zero qualms about proceeding with construction, based on what he's been told by state officials.
"I had a long conversation with Kathryn Miyar from the state archaeologist office and she told me that her work at the state level on the remains will continue, but that the part involving my land is over," Zana said Monday of the Blue at 8050 Ocean property.
"She said the report shows the bones have Asian characteristics and that they may be Native American but that she's not convinced of that so she's going to go to examine the remains herself," said Zana. "If the remains are Native American, Kathryn said her main concern would be contacting the tribes to handle the remains properly."
Messages to Miyar to confirm were not returned as of press time, but Christine Canard from the Medical Examiner's office said "we can tell you that the bones are very old, and the Indian River Shores police will be handling the excavation." She said further investigation and study would be done by anthropologists at the C.A. Pound Lab at the University of Florida.
"The archaeology team from University of Florida was at the site last Friday for at least three hours, starting at noon," Indian River Shores Public Safety Chief Rich Rosell said Monday.
"Three additional bone fragments were found by the archaeology team and turned over to the local medical examiner's office in Fort Pierce," Rosell said. "State archaeologists will go to the Medical Examiner's office this week to physically review the remains. They are sure [the fragments] came from the same person, but unsure which part of the body" they came from.
The forensic report produced by the medical examiner states the bones recovered belonged to an older adult male, approximately 5-feet, 8-inches tall. A total of more than 160 bones, including eight "severely worn" teeth, were collected by law enforcement on June 5, when a nearly complete skeleton was uncovered by a backhoe driver
"The dirt-encrusted bones and presence of vegetation growing in the skull are consistent with the remains having been in the ground for a long time," Chief Medical Examiner Dr. Roger Mittleman wrote in his June 13 report.
Rosell said he does not believe the archaeology team will be back, which fits with Zana's reported conversation with Miyar.