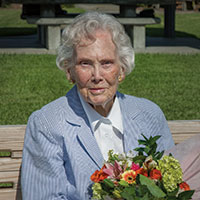 Alma Lee Loy, 90, 'Vero's First Lady,' dies on Good Friday
STORY BY MARY SCHENKEL

Vero Beach lost one of its greatest treasures with the Good Friday passing of Alma Lee Loy, 90. Born in Vero Beach in 1929, Loy's legendary and lifelong support of the community she adored earned her the honorific "Vero's First Lady." 
Loy dedicated her entire life to the enrichment of Indian River County and was a leader in the founding and operation of many cultural, environmental and philanthropic organizations and institutions, including McKee Garden, the Environmental Learning Center and the Indian River Community Foundation. She was also a political and business leader, the first woman to serve as president of the IRC Chamber of Commerce and the first female county commissioner.
Her efforts earned her innumerable tributes, accolades and awards – including many in her name – but more importantly, the respect of everyone she met. 
With a warm smile and a throaty "hello darlin'," Loy could charm anyone into volunteering for a worthy cause or contributing to one of the many philanthropic endeavors she supported. Just her uplifting presence, often attired in a pink blazer, at an event was an indication that the cause was worthy. 
Never one to shy away from a good fight, especially when championing Vero's uniqueness or the preservation of its green spaces, Loy would make her case with a twinkle in her eye and a soft-spoken drawl that had even her adversaries leaning in to listen. In recent years, she had turned her attention to the fates of the former Dodgertown Golf Course and Centennial Place. 
She was the eldest of three children born to Viola and George Loy, who moved to Vero Beach in 1928; Loy's brother George Jr. passed away in 1979 and her sister Gwen Loy Guy in September 2016. 
Loy's father owned Loy's Men's Wear and, after graduating from Vero Beach High School in 1947 and the University of Miami in 1952, she eventually continued the family retail tradition. Loy and her dear friend Lucy Auxier owned Alma Lee's Children's Shop for 42 years, before closing its doors in 1997.
Loy described it as a "happy business" that afforded her the opportunity to learn what was going on about town and watch generations of children grow up. At a gathering of longtime Vero residents a few years ago, Patti Gibbons recalled that clothing purchased at the shop always had a distinct aroma, adding, "We all knew when we got a present, as soon as you opened the box, that it was something from Alma Lee's."
Loy maintained that as a child she was a bit of a tomboy, always interested in sports. She joined the Vero Beach County Club in 1948 and was a lifelong member – once confiding that she had considered becoming a professional golfer. She was particularly proud to be asked to run along U.S. 1 in 1996 with the Olympic Torch.
It was during her years as a businesswoman that Loy began accumulating her extensive history of firsts. It was in 1963 that Loy became the first woman to serve as president of the Chamber of Commerce. Later, she was the honorary chairperson of a $1.5 million capital campaign to fund the rebuilding of the chamber offices. The new building was christened the Alma Lee Loy Chamber Building in recognition of her 50 years as a chamber leader and mentor.
Loy was the first woman to serve (1968-1980) as an Indian River County Commissioner, including terms as chairman. She ran on a platform that essentially continued throughout her life: 'I'd like your Vote for a Better Tomorrow.' It was during her tenure that a hard-fought battle to build the 17th Street Bridge was won; in 2012 the soaring arch was named the Alma Lee Loy Bridge. 
On the healthcare front, Loy served on the original board of then Indian River Memorial Hospital from 1986 to 1992, and later on the Indian River Hospital District board.
Loy's family and faith were an integral part of her life. The Loy and Guy families were honored at the 2012 Vero Heritage Pioneer Dinner – Gwen Loy had married Tom Guy, whose parents were also early settlers to the area. 
"The early settlers of Vero Beach came with great expectations," said Loy at the dinner. Her comment about them working "daylight to dusk, helping their neighbors, building lives on values through their churches, schools and business community" gave profound insight into her own view of life.
Loy became a member of First Baptist Church in 1937, where her father volunteered 12 years as the church's first music director and her mother sang in the choir for 53 years. Loy chaired the church's 100th Anniversary Celebration in 2015.
She first became involved with the creation of the Veterans Memorial Island Sanctuary as a young girl with her friend, the late Helen Glenn. Glenn was the daughter of Alex MacWilliam, who had convinced the Florida State Department to turn the property over to the City of Vero Beach. 
"Everybody was given a job and everybody went to work," Loy once recalled of the early effort to create a memorial. "Helen and I were the two youngsters on the committee; we were, of course, appointed by her father."
At one of the many Memorial Island ceremonies, keynote speaker Maj. Gen. Clay Buckingham, U.S. Army (Ret.) remembered Loy selling war bonds and stamps as a "red-haired, freckle-faced girl."
The island's development from dredging to dedication took almost 20 years, by which time the girls were adults. Glenn and Loy both served for many years on the memorial island sanctuary advisory committee, often chairing it, overseeing the island in cooperation with the Veterans Council of Indian River County.
"When I think about us sitting around on fruit crates among all those Australian pines, I don't think any of us had the vision that the island would be developed as it is today," Loy said in later years, recalling the 1964 dedication. "It certainly was a tremendous community effort."
A staunch proponent of the environment, Loy was a founding member of the Environmental Learning Center, and had a special affinity for McKee Botanical Garden, which likely would not exist had it not been for her efforts.
When the 80-acre McKee Jungle Garden closed in 1976, all but 18 acres had been sold for development. Even those remaining acres came close to being bulldozed before the Indian River Land Trust, on whose board she served, launched a campaign to purchase and restore the property.
Loy served as McKee Botanical Garden's first board president and chaired the $9.2 million capital campaign for its restoration. She also rallied supporters to literally keep the garden gates open through a special annual Gatekeeper of the Garden funding group that continues today. 
"We have to build good stewards of our environment, and by exposing children to such a mystical place surrounded by nature, it will instill their love of nature and their desire to preserve it," said Loy at the dedication of the new Children's Garden at McKee.
Education and philanthropy were also important to Loy, and she found a kindred spirit in the late Dan Richardson.
"He was one of the best friends I have ever had," Loy once related. "As my first mentor, Dan allowed me to assist and be a part of many forward actions to build a better community, and he was a special friend. We started working somewhere in the early '50s and little by little by little we worked on all sorts of organizations together." 
The two served in leadership capacities with multiple organizations, including the United Way of IRC and the Gifford Youth Achievement Center. In 2007, Loy became the second recipient of GYAC's Dan K. Richardson Humanitarian Award; Richardson was the first.
In 1991 Richardson, Loy and the late Marian Block established the Education Foundation of IRC to fund school programs and services at local schools. 
Loy understood that philanthropy was essential to maintaining Indian River County's special quality of life.  She was one of the founders of the Indian River Community Foundation, which later, in 2011, established the Alma Lee Loy Legacy Society. More than 50 members have since joined Loy in setting up estate bequests to sustain future needs. 
"The needs of this community 50 years ago were drastically different from the challenges we face today. Who knows what they will be like 50 years from now," said Loy when the Legacy Society was established. Nine years later, at a 90th birthday celebration hosted by the Community Foundation, she said that she was still "working real hard to build that fund and get it as big as I possibly can."
In conjunction with a special Association of Fundraising Professionals President's Award, Loy was presented with a bench in her honor at A.W. Young Park, overlooking the bridge that bears her name. 
"I am truly blessed to live in a community where people care and want to continue the growth and enhancement of a distinctive quality of life for generations to follow," Loy said at the time. "I hope my participation in philanthropic efforts in this area will be a beacon to leave a legacy of philanthropy."
A strong proponent of Vero's numerous arts and cultural endeavors, Loy enmeshed herself in early boards, committees and funding initiatives for such organizations as the Vero Beach Museum of Art, Riverside Theatre, Vero Beach Theatre Guild and the Cultural Council of IRC, which established the Alma Lee Loy Award to recognize volunteers for their support of nonprofit cultural organizations.
Asked at this past October's United Way of IRC Community Leaders Breakfast, what advice she had for the next generation, Loy said she would counsel them to respect the decisions their forefathers put into place, as those are what have made this community so unique.
"It's going to be up to the younger generation to carry that on; it's now their responsibility," said Loy, adding, "I have a lot of faith in them." 
At a Chamber of Commerce luncheon toward the end of the building campaign, Loy told the gathering of her well-wishers, "I do have a love affair with Vero Beach and Indian River County. I thank you for honoring me with a lasting tribute. My heart is filled with appreciation and love for you all."
The feeling is, and always will be, mutual.