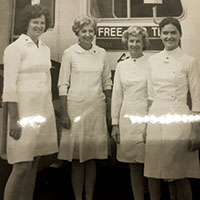 Ann Marie McCrystal, eternal optimist, looks to the future with hope
STORY BY MICHELLE GENZ
Photo: Ann Marie McCrystal is pictured (second from the right), between Helen Brackins and the late Pat Moore. The nurses were volunteering with the American Cancer Society providing free pap smears on its mobile van. All three went on to co-found the county's VNA.

Ann Marie McCrystal doesn't need to play an accordion on a balcony like upbeat Italians seen in news reports to show her gratitude to caregivers.
But she could if anyone asked. Once a cardiothoracic surgery nurse who earned money for nursing school playing the accordion on Miami Beach, McCrystal now is an elected Hospital District trustee. She's also part of a longtime healthcare power couple in Vero: her husband, Dr. Hugh McCrystal, is a retired urologist and was chief of staff at Indian River Medical Center for two decades.
Ann Marie McCrystal's day job for many years was nurse administrator at her husband's practice. But she also was co-founder of Vero's Visiting Nurse Association and Hospice house and was known for volunteering her nursing skills in a pinch, including the time she and the late Pat Moore, a best friend and fellow registered nurse, performed free Pap smears on the VNA's mobile clinic bus.
McCrystal has championed nursing her entire life, but never more than now, as she watches VNA's home health nurses deploying throughout the county to care for COVID-19 patients quarantined in their homes.
"God bless them, those caregivers," she said, with equal parts concern and conviction. "If you can keep people at home to heal, hospitals can use those beds for the most seriously ill COVID-19 patients, or patients with other serious illnesses that just happen to hit in the pandemic."
The courage of those nurses, showing up on turf the coronavirus has already claimed, is secondary to their sense of duty, McCrystal says, just as it is for caregivers in the hospital.
The nurses' visits to COVID-19 patients is in addition to all the other patients they visit and care for – 400 a day, McCrystal says, some fresh out of the hospital, some needing hospice care, and some needing physical, occupational or respiratory therapy that VNA also provides.
McCrystal came to nursing almost on impulse – though she has nurture in her nature, her mother having been the sort that "took care of everybody."
Her family lived in what was then the small New Jersey town of Fairlawn, where "there was an accordion teacher on every corner," Ann Marie says. She started lessons at age 9; against her tiny frame, she seemed to be wielding a baby grand as she won multiple competitions. At 16, her "Rhapsody in Blue" won her $100 and a spot on Ted Mack's Amateur Hour. "I practiced an hour a day, even through college," she recalls.
It was her mother's dream to move to Florida, and they finally made it to Miami when Ann Marie was a teenager. Within a couple of years, it was Ann Marie's turn to dream, as she drove past the lights of Miami's Doctors' Hospital one night.
"I'll never forget it. It was a moment. I said to myself, 'I wonder what's going on in there?' I had to find out."
It was 1956 and McCrystal was majoring in music and drama at the University of Miami and playing the accordion with her sister at Miami Beach hotels for $50 a gig.
McCrystal had never given a thought to nursing. Instead, she was set on becoming an actress – even though she'd never set foot on a stage.
But the mystery behind those lights in the hospital gripped her imagination and gave her a sense of purpose she'd never felt before. She signed up for a nursing course the next semester and started classes in temporary classrooms in what students called Cardboard College.
There were six students in her class. "I spent $25 on a nurse's pinafore, yellow over a white dress. It was adorable."
Today, in its 70th year, UM's School of Nursing and Health Studies is home to 1,100 students who go to classes in a five-story, 41,000-square-foot building. The school recently invited McCrystal back to honor her.
"When I walked into that hospital the first day of my training, Nursing 101, there were only six of us. When I started doing rounds and learning what hospital life and caring for patients was all about, I knew I had found something that would excite me," she recalls.
"That summer, I had my first OR experience. I walked into the operating room with my mask on, standing off in the corner with my peers to observe, I thought to myself, 'God, thank you.' I found where I belonged. I knew it.
"I loved the preciseness of it. I loved the anticipation. I knew I was home and felt I needed to perfect that skill."
While in nursing school, McCrystal worked as an OR tech at Jackson Memorial Hospital. "I was stringently trained in sterile technique. We had a whole semester in the OR. Now, they may get to scrub a couple of times unless they're specializing in OR."
Imagining today's nurses being asked to conserve protective gear like masks by changing them less frequently – sometimes wearing them through a whole shift – prompts McCrystal to call the nationwide shortage "disgusting."
After graduation in 1959, the newly minted R.N. went on to become head nurse in charge of open-heart surgery. She met Hugh McCrystal at 6 a.m. one morning in the Jackson Memorial coffee shop. It was the first day of his surgical internship. A graduate of Johns Hopkins, he had joined the Air Force at the end of the Korean War, becoming a pilot and "flying generals around the world," McCrystal said. After four years, he enrolled in med school, and on graduation "matched" with Jackson Memorial.
The couple met in 1960. They were married three years later and immediately moved to Washington, D.C., for Hugh's residency in urology.
"We left that night after the wedding in my old Ford with a U-Haul with all of my belongings plus my accordion," she recalls. "I-95 ended in Fort Pierce then, so we pulled over and drove up U.S. 1, and at nine o'clock that night, we stopped in Vero Beach. Our first night as a married couple."
The honeymoon cottage, as it were, was a motel where there is now a CVS. "It was the only place where we could pull in with the U-Haul and back out again."
Once in Washington, Ann Marie quickly got a job at Georgetown University Medical Center with a team led by Dr. Charlie Hufnagel, inventor of the first artificial heart valve.
In 1970, the couple moved to Vero Beach and built a home in Riomar Bay, where they raised their three children – Carolyn, Hugh Jr. and Kelly – and still live today. A month ago, daughter Kelly came down from New York, staying in an apartment for two weeks of quarantine before visiting her parents.
A graduate of University of Notre Dame and the Wharton School, she is chief strategy officer at the Clinton Health Access Initiative, specializing in reproductive, maternal and child health issues. In that capacity she spent considerable time in Nigeria and Tanzania, and her mother could not resist visiting.
"I've been to Africa six times. It's the most spiritual place I've ever known," Ann Marie says. "I always tell Kelly, 'I want to be in your pocket.'"
Hard to say who would be willing to be in the pocket of nurses today, as those on the COVID-19 front lines face ever-shifting ways of care and precautions, dictated by shortages of supplies and a potential tsunami of patients in some locations.
At Jackson Memorial in the early 1960s, Ann Marie's cardiac surgery team was on the front lines, too, breaking ground in the field of heart surgery. An open-heart operation that took four to five hours required far longer than that for preparation. "It took me practically all week to set up the instrument trays and everything that you needed for that particular case. It was a very new thing," she said.
The open-heart surgery program at Jackson was the only one in the state at that time, says McCrystal. "In that day, you lost more than you won, in a way, because you were pioneers. You were trying to perfect the skills and you knew you had to do it."
One particularly painful loss was the battle to save a 14-year-old boy with faulty heart valves. The surgeons did their best, but the boy did not survive. As the doctors left the OR, clearly distraught, McCrystal recalls, she was left to prepare the body to be taken from the room.
"It was my first loss of a child, and it was very moving for me, very difficult. He was a child, and he had all his life to live. But it didn't stop me from wanting to move on because every day we did another case. I knew they were going to figure out a better way to replace those valves in a more successful way. I knew there was progress to be made and I wanted to be a part of it.
"It was another step in the right direction to perfect open-heart surgery, to make it what it is today, which is just incredible. I'm so glad I lived long enough to see the result of those pioneering physicians. It was very difficult for them, but they were on the cutting edge of it all. I'll always think for the rest of my life that I was in the right place at the right time."
If it helps to imagine COVID-19 nurses today as pioneers in an equally important frontier, the personal risks to themselves and their families they face still break McCrystal's heart.
She seems to have trouble even processing that caregivers could be asked to wear personal protective equipment like masks from patient to patient without changing them, as many are today.
At the same time, McCrystal believes the healthcare community could be learning a useful lesson – that prior habits of discarding gowns and masks after every patient instead of sterilizing and reusing them, as some hospitals are now ordering, was wasteful. "Maybe we've been a little extravagant, and this is wake-up call to what the important things are to keep ourselves and our planet functioning so that we don't go the way of the dinosaur."
"I'm an eternal optimist," says McCrystal. "What is going on today, with the world rallying around everyone, pulling together, putting political things aside because it doesn't matter [is inspiring]. What matters is your loved ones, your family, your friends, our neighbor, the county, the country. The people in this country do whatever it takes – like Rosie the Riveter in the plants in World War II.
"I think we're going to have enough of everything. It may not seem like it today. But tomorrow it'll be better and the day after that, and the day after that. Soon you'll see an overabundance of supply. Just look at Piper. They have orders for airplanes, but guess what? They're making PPEs.
"COVID-19 is like World War III. We're all coming together. And that's the way it should be."