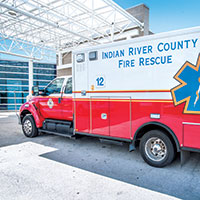 Health officials need to be more open about virus
STORY BY LISA ZAHNER | NEWS ANALYSIS

There were some somber milestones this week, like the passing of an 88-year-old woman – Indian River County's first death – from complications of COVID-19, or the fact that the county's number of coronavirus cases was headed over 80.
But even more important than those facts are the things we cannot get officials to confirm.
We know there were at least five cases of COVID-19 in long-term-care facilities in Indian River County, where our most vulnerable residents live and receive care for chronic ailments and for dementia.
We know that five cases were in the same long-term-care facility because Indian River Shores Public Safety Chief Rich Rosell spent several hours of his Easter Sunday contacting various officials to try to find out where the outbreak was located.
"My phone is going to be ringing off the hook," Rosell said, anticipating the day when his Indian River Shores residents find out that COVID-19 has spread into the trusted skilled-nursing facilities where their parents, their spouses, their aunts and siblings reside. "I need to know what's going on so I can give our residents some answers."
County public health officials would not tell Rosell which facility of our 25 long-term care and assisted living facilities has had the outbreak. He apologized to Vero Beach 32963 that he could only tell us that, thankfully, the five cases apparently were not spread among several facilities. A tiny bit of solace in a troubling situation.
We know some public officials and law enforcement officials know where the outbreak is, but they won't tell us.
We know, from listening to the police scanner, that ambulances were called to four different nursing homes or assisted living facilities from Sebastian to South Vero on Monday to care for suspected COVID-19 patients.
We know that officials from the Indian River County Health Department have actively shut down top personnel in Indian River County Emergency Services, who up until a few days ago were trying very hard to be responsive, transparent and helpful in answering questions about the COVID-19 situation in our county.
We know from Gov. Ron DeSantis that whenever there is an outbreak in a nursing home or assisted living facility, a Rapid Emergency Support Team (REST) is dispatched "immediately" to that facility to provide boots on the ground help getting people tested, quarantined and tended to properly.
We know that 93 of those REST teams have been sent to the four corners of Florida. We do not know if any teams are operating in Indian River County because the best answer the Indian River County Health Department's communications person would give us was, "Let me get back to you tomorrow."
Does she not know if a REST team is here from Tallahassee? Does she expect us to believe that she does not know?
We absolutely know that Indian River County residents deserve better than this. Our public health officials are hiding behind the state's privacy laws when any local resident can turn on the television or log onto social media and find out vastly more information about what's happening in Miami or Orlando or Tallahassee than they can about their own hometown.
Where is the Indian River County Commission in all this? Are they clamoring for the same answers we want?
It's been about two weeks since DeSantis ordered Floridians to be "Safer at Home," on the heels of the previous federal "15 Days to Stop the Spread" guidance – so we are now going on a month of extreme social distancing.
Of all the executive orders that have been signed by the governor, there is no order saying public health officials have permission to be evasive and deceptive.
Florida Surgeon General Dr. Scott Rivkees on Monday did not promise any quick fix as Indian River County's cases approached 80 and statewide cases topped the 21,000 mark. Instead, the state's chief health official said, "Until we get a vaccine, which is going to be a while off, this is going to be our new normal and we need to adapt and protect ourselves."
But it's not normal. It's not normal for us to stay secluded at home, or for our older residents to live in fear of catching a virus that could put them in the hospital – or worse.
It's not normal to not be able to go to work or to school. It's not normal to be barred from parks, playgrounds and beach access.
It's not normal to not be able to visit with friends, to not be able to go to church. It's not normal to not be able to enjoy cocktail hour at a favorite watering hole or at the club.
It's not normal to not be able to visit a loved one in their assisted-living facility or in the hospital. Those things are not essential, officials say, and we're all relegated to essential activities and essential trips out only.
Sensing the growing restlessness in the community, Vero City Manager Monte Falls during the most recent Vero City Council meeting encouraged the vacant gallery in the empty council chambers to "Be kind to each other."
Another bit of advice might be "Be honest with each other."
Be honest with the public about what is going on in our community. Build trust. Demand as much transparency as humanly possible in the midst of this human tragedy that is the new coronavirus pandemic.
EDITOR'S NOTE: In reporting on how the COVID 19 pandemic is impacting our community, we need your help.  If you have a loved one in a nursing home or assisted living facility, and have questions or concerns  about the situation there, please reach out to us at LisaZahner32963@gmail.com. We will try to get answers, and all communications will be treated as confidential.