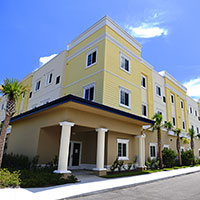 New senior living facility opens in midst of pandemic
STORY BY MICHELLE GENZ (Week of August 20, 2020)
Photo: Exterior of Promenade a new senior living facility in Sebastian.

Just as the state debates how to reopen long-term care facilities to visitors shut out during the COVID-19 pandemic, a senior living community threw open its doors to new residents this month, with its first eight residents coming out of quarantine and moving into their own apartments this week.
The Promenade in Sebastian is the second largest assisted living facility in the county and the first new construction in more than a decade. And while the timing could not be more challenging, staff is committed to welcoming new residents and easing them through a lifestyle change that even before COVID-19 was emotional at best.
For the seniors moving into The Promenade – and for new residents moving into any of the county's 24 long-term care facilities – the transition to congregate living is starkly different with COVID-19. The first eight residents at The Promenade were initially isolated in temporary digs – a designated wing of furnished apartments used only to quarantine newcomers.
Their 14-day sojourn required a negative COVID-19 test to begin with, and included a second test eight days in. That precaution complicates the emotional aspects of leaving their own homes and still having to wait to make a new home with the comforts of their own furniture and possessions in place.
At the same time, movers – and only movers – are coming in and out of a different floor of apartments, in which no resident has lived, and no aides have worked, bringing in residents' possessions. Once the resident's furniture is installed, housekeeping gives it all a once-over with disinfectant. Then, no one sets foot in the unit until the new residents come out of quarantine and move in.
At that point, the residents will see a whole new team of nurses and aides – the "clean team," as marketing manager Marta Wallace put it. "The quarantine staff will never see these people again until this whole virus thing is over."
So far, the facility has only minimal staff – and by management's testimony, the nurses and care partners are doting on their guests. Even the chef, James Mason, former executive chef at Grand Harbor, is making meals at the cozier scale of a home kitchen and delivering them room-service style to the quarantined residents.
When life approaches normal and group dining resumes, residents will be able to order off a menu at any time of day, unlike many facilities which have set hours for meals. "We're really trying to keep people feeling independent as long as they can," said Wallace. "It's about their needs, not ours."
The Promenade, with an imposing three-story facade directly on U.S. 1 midway between Vero and Sebastian, broke ground three years ago.
It is the county's second largest assisted living facility, though some of its 116 apartments licensed for assisted living will be used as independent living apartments, with residents with varying levels of medical needs living as neighbors, according to Stacey Henley, executive director of the property. There is also a secured memory care unit.
To date, 26 people have committed to moving in. Eventually, though, the large facility may contribute to an over-supply of rooms in the existing market for senior living.
"The new 125-bed facility in Sebastian is a big one. That's a lot of new beds coming online," said Don Wright, managing partner in the 50-bed Pelican Garden in Sebastian. He is also an investor in two other facilities in the county: Rosewood Manor and Integrity-Dixie Oak Manor in Winter Beach.
Wright said Pelican Garden usually is 85 percent to 100 percent full, but the COVID-19 lockdown caused a drop of around 7 percent. "We'll just keep doing what we do best," Wright said. "We expect our census to come back up quickly."
The Promenade is owned by a New Jersey investor and is managed by Concordis, an Ocala-based developer and operator of nine senior living communities in Florida; a 10th is in Virginia.
While the Promenade's opening guarantees there will be no shortage of assisted living space in the foreseeable future, the facility could also drain the local labor pool.
"We actually got an influx of applicants when the hotels and restaurants had to shut down, so we had a large volume to choose from," said Henley.  "Especially with a new building, you expect people to apply because it's new. But I've never seen anything like it before."
While her new employees may be excited about a change to a new facility, the residents may have trepidation. Any decision to enter a long-term care facility cannot be made lightly during a pandemic, with news reports focusing from the first on the virus spreading in the most vulnerable populations: the elderly in group care homes.
Today, half of COVID-19 deaths in Florida are of residents in long-term care. Unfairly or not, that statistic has taken a toll on the reputation of nursing homes and assisted living. One consultant in the field, Transcend Strategy Group, found that out of 1,000 family members surveyed nationally in June, more than half said they were more likely to keep their loved ones at home.
Indeed, in the second quarter of 2020, the occupancy rate for senior housing dropped to an all-time low nationwide, from 87.7 percent to 84.9 percent, according to data from the NIC MAP Data Service, a marketing research company for senior living facilities.
In Central Florida, though, occupancy rates in the Orlando metro area bucked the national trend and held steady.  And on the other coast, Tampa maintained the fourth highest occupancy rate among all metro areas in the nation.
Occupancy rates in Indian River County are not available in public data, and of several facilities queried by 32963, only Wright was forthcoming about occupancy in his properties.  But Henley said facilities comparable to The Promenade were at 90 percent before COVID-19. "They were full. There were waiting lists," she said.
One senior living chain CEO blamed the drop not so much on lower demand as on restrictions on admitting new residents during the lockdown.
"In all honesty, I don't believe demand for senior housing and care has changed. Our ability to fulfill that demand has changed," said Patricia Will, founder and CEO of a 31-facility senior living chain, Belmont Village. Her company just opened a facility in Coral Gables with Baptist Health South Florida as partner.
Will, quoted last week in Multihousing News, says the sector "shut the front door" when the pandemic started and focused on getting adequate testing supplies and PPE, as well as preventing the virus from reaching residents.
Within a couple of months, facilities carefully began admitting new people. But in that interval, what Will termed "natural attrition" created a resident deficit that was hard to recover.
"When you drop ... occupancy by restraining move-ins, it takes a while to get it back," she said.
But Henley said the pandemic has "absolutely not" slowed down growth in demand for long-term care accommodations. "People need a safe place to go and live without the worries of needing help in the home. Residents need to have peace of mind and quality of life regardless of the pandemic or what's going on in the world."