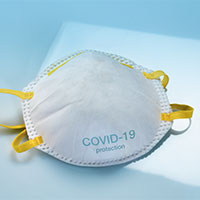 No shortage of COVID-19 testing supplies here at moment
STORY BY LISA ZAHNER (Week of August 13, 2020)

Shortages in COVID-19 testing supplies have made the national news steadily over the past month, with a capacity crunch persisting in California, New York, Boston and across the Midwest. But for now, at least, local test centers say they can fully meet the Vero Beach area demand.
At peak, Treasure Coast Community Health was testing 300 people per day at its Indian River County Fairgrounds drive-up testing center. Open for just 90 minutes three mornings per week, the site quickly became popular with locals because there was no appointment required and anyone can get a test, regardless of age or symptoms. In mid-July, LabCorp notified TCCH that it was having supply issues and would need to limit the collection kits it sent twice a week to the community health centers. Results were also taking about a week to come back.
"At one point they (LabCorp) told us they had the capacity to process 15,000 tests a night, but they were receiving 50,000 tests a night," said Treasure Coast Community Health CEO Vicki Soule. "Quest was equally overwhelmed, hence their resulting delays, but no specifics were offered by Quest."
"The supply now is a non-issue," Soule said on Friday. Collection kits are arriving on schedule and turnaround time for results is back to a manageable three to five days. Swabs go out the same day after the fairgrounds testing center closes up shop from its 8:30 to 10 a.m. drive-up hours. "Both companies we deal with have a courier that picks up at lunch, so the tests done that morning are on their way to the lab by lunchtime."
Testing demand is down, with only 150 people showing up last Wednesday, so this lull means it's a good time to get tested for people in high-risk groups and occupations, or for anyone who fears they may have been exposed to the virus. The latest scientific studies out estimate that between 30 percent and 40 percent of those infected have no symptoms, but could still spread COVID-19 to others.
TCCH will test children and even infants, and they are also offering the COVID-19 antibody test, and testing people with symptoms at its community health centers. People who test negative can find their test results via their LabCorp patient portal, and they are given instructions on how to check that site.
"We felt we had a duty to call anyone who tests positive," Soule said, adding that a trained RN or LPN makes good use of that first contact, answering the many questions patients have and giving them guidance on isolation protocols and what to do next.
Soule said based upon the reduced demand for testing, TCCH might scale operations back to two days per week sometime in August. Already the community testing in Fellsmere and in the Oslo area has been discontinued. Soule credits the county staff and especially Kevin Kirwin for helping get the Indian River County Fairgrounds site up and running successfully.
Community Relations Director Colette Heid handles outreach for TCCH and she said the health centers' nimble approach filled a critical need right on time, when local residents needed it.
"We feel that we are leading the way in terms of helping people through the COVID-19 disease when they do test positive."
Soule said she has not been warned that the start of fall classes for Florida's universities might once again overwhelm the state's testing system. Most colleges are requiring students to test before returning to campus, or at least testing all students moving into dormitories. With 171 four-year universities plus another 400 community colleges and trade schools, that's a huge number of students.
The University of Florida is one school requiring every student to test, and UF Health is not leaving its contact tracing up to the Alachua County Health Department. Contact tracing for college students is complex, as each case is counted in the county where the student maintains his or her legal residence, according to Indian River County Health Department spokesperson Stacy Brock. So it would seemingly impossible to find the nexus of an outbreak if, within a cluster of cases, students were from five or 10 different counties or even from out of state.
"Students, faculty or staff who test positive for coronavirus will be interviewed by UF Health personnel trained in epidemiology or public health to identify as many of their recent contacts as possible. Roommates. Boyfriends or girlfriends. Acquaintances. The mechanic who fixed their car. A landlord who collected the rent. And so on," UF Health outlines on its student web portal. "One study shows that if 20 percent or more of the contacts of a symptomatic person are traced and put into quarantine, then an epidemic can be controlled and the chances of a 'second wave' can be reduced significantly."
That tracing and isolation cannot begin if infected people are not identified through widespread testing. Yet state officials including Gov. Ron DeSantis last week said it may be time to begin limiting testing, or at least focusing resources on people who are symptomatic.
Cleveland Clinic Indian River still has more strict testing criteria for its patient pavilion testing center, where drive-up testing was shifted walk-up testing under shelter for hurricane season, and anyone who wants a test must call, speak with a nurse and be given an appointment. Patients admitted to the hospital, or who are scheduled to come in for a medical procedure are also tested at least once for the novel coronavirus, typically by rapid tests processed in-house. Employees are tested several times during their illness if symptomatic.
Despite all this testing, Chief Operating Officer Dr. Ralph Turner said CCIR has maintained adequate testing capacity throughout the summer – even at times when facilities nationwide were strapped for supplies like swabs, test kits and reagent.
"Cleveland Clinic Indian River Hospital did not see any issues with our testing supplies or capacity in July and currently has adequate testing supplies," Turner said. "We test an average of 600 individuals per week, with approximately 75 percent of those sent to outside labs for processing."
Test results are running between four and seven days, according to the hospital's COVID-19 testing web page. People age 16 and older who meet testing criteria can be tested at the hospital. CCIR is referring pediatric patients to the Indian River County Health Department.
The Health Department has more available testing capacity right now than it has tested over the past six months cumulatively. "We have conducted 2,278 tests at the health department from March 13 to Aug. 9. We have 3,004 COVID-19 tests available. Our turnaround time for test results has been 2-3 days," Brock said.
The nurse triage line for testing at CCIR Hospital is 772-226-4846 between 7 a.m and 3 p.m. Monday through Friday. Treasure Coast Community Health does not require an appointment at its IRC Fairgrounds site, but for other information, call 772-257-8224. To contact the Indian River County Health Department, call 772-794-7400.